Editor's Note: The following article is reprinted from the Today @ PC World blog at PCWorld.com.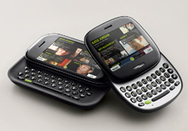 Rumors of a line of Microsoft-branded social networking phones have been floating around the blogosphere for months, but now they're finally officially. Meet the Kin One and Two: The newest members of the Windows Phone family. The Kin phones pick up right where the Sidekick left off, with full QWERTY keyboards and a variety of social-networking and media features. Both will be available from Verizon starting in May.
Designed for socially-connected, younger audiences, the Kin OS makes sharing and uploading content and keeping in touch with your friends incredibly simple via an intuitive, visually-pleasing interface. You can share videos, photos, link and other content by simply dragging-and-dropping your content to a designated sharing area called the "Kin Spot," then selecting who you want to send it to or where you want to upload it.
Similar to Motorola's MotoBlur interface for Android, Kin is a cloud-based OS. When you capture photos or videos on your Kin phone, they're automatically uploaded to the Kin server. You can log into you Kin account on your PC to view and share your media.
The Kin phones also have the Zune HD player for media playback, a refreshing change from the dull-as-dirt Windows Media player found on older Windows phones. The Zune HD player will be compatible with both PC and Macs. Microsoft's Mac compatible software will let users 'sideload' media such as photos and DRM-free music from their iTunes and iPhoto libraries.
More advanced users, however, might be turned off by some of the limitations within the operating system. There's no photo- or video-editing software built in to the OS, no universal inbox, and no calendar support. The browser doesn't support Flash Lite or Silverlight, either. And while the phones have a fair amount of built-in memory, there's no expandable memory support. The Kin One and Two run a special version of the Windows Phone OS—not Windows Phone 7 or even version 6.5—so many of the core Windows Phone features aren't available in the Kin OS.
Made by Sharp for Microsoft, the Kin One and Two are designed with heavy messaging in mind. The Kin One is a squat, square phone and is reminiscent of the Cricket TXTM8 with a vertical slide-out QWERTY keyboard. It has a smaller display, a 5-megapixel camera with a flash, and 4 GB of built-in memory. The Kin Two has a larger display and a horizontal slide-out QWERTY keyboard. It has an 8-megapixel camera with flash as well as 8GB of built-in memory.
One thing Microsoft hasn't shared are pricing details, but it seems likely that the more capable Kin Two will run at a higher price when the two phones debut next month.