The iTunes store is flush with Twitter clients for iPhone and iPod touch, so it takes a little effort for a new app to set itself apart. Crème from Directionality Studios is a great-looking app with some unique features, though it's not as full-service as one might hope for the price.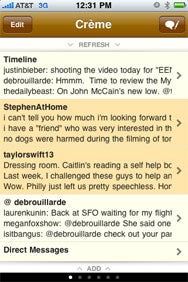 When you first launch Crème, the app directs you to the Twitter Website to enter your login information and receive a PIN This security measure is meant to keep the app from knowing your account information, which is a nice feature. However, the PIN can't be copy-pasted, so make sure to have a pen and paper handy to copy it down.
For most mobile Twitter apps, an account's home screen features just a Timeline, or what you'd see if you checked Twitter from an Internet browser. But Crème is unique in that you can add different feeds to the home page. In addition to your timeline, you can see feeds from an individual user, or a feed with just your mentions, retweets, or direct messages, with each feed's most recent tweet in a list on the homepage. This saves the hassle of clicking around to read your messages or get to a favorite user.
If someone's tweet particularly inspires you, the arrow button includes a multitude of actions for responding to it. You can reply to a tweet, quote it, retweet it, add it to your favorites, open it in Safari, or reply to the user with a direct message. Since Crème's last update, you can also bookmark it, which saves tweets in a special list you can access even when you're offline.
The interface is all done in shades of a muted gold color, with unread tweets highlighted. It's both aesthetically pleasing and user-friendly, making use of the iPhone's swiping controls to refresh tweets or edit preferences.
Despite these high points, Crème is not without its deficiencies. Surprisingly, the app doesn't support tweeting pictures, nor does it add locations using the iPhone's GPS. And, just as a personal preference, I found that feeds didn't differentiate between tweets very much, making all of the little text boxes kind of blend together.
Crème still stands out from many other Twitter clients, though for the $3 price tag, I'm not sure that the multiple feed feature makes up for the lack of picture tweeting.
[Meghann Myers is Macworld's editorial intern.]