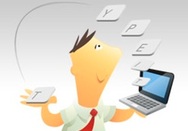 TypeIt4Me can now legally drink in the United States. And to celebrate, the 21-year-old text expanding software is available in a brand new version.
UK-based Ettore Software on Monday announced the immediate availability of TypeIt4Me 5.0, the latest version of the text-expanding utility. TypeIt4Me lets you create short abbreviations (like "lfmw") that automatically expand to text (or pictures) that you define (like "Lex Friedman is a frequent and devilishly handsome Macworld contributor").
This 5.0 release offers full 64-bit Snow Leopard compatibility, along with improved expansion performance and a freshly-redesigned interface for creating and editing text shortcuts.
Additionally, TypeIt4Me has moved out of System Preferences, and now lives instead as a true standalone application (which you can hide from the Dock if desired).
You can download TypeIt4Me 5.0 to start a free 30-day trial. The software costs $27, or $14 for students and teachers. Registered users can upgrade for $9. And if you bought TypeIt4Me since January 1 2009, you can expect a free upgrade code in your inbox over the next few days.