Editor's Note: The following article is reprinted from the Today @ PC World blog at PCWorld.com.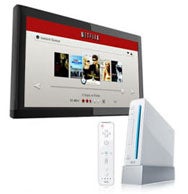 Instant streaming discs for the Wii are now being shipped to all eligible Netflix members who request them, Netflix said in a blog post Monday.
According to the Netflix website, the discs will start arriving at members' homes in one to two business days. To access streaming video content, users will need to put the discs into their Wii and enter the activation code (displayed on the television screen) into https://netflix.com/wii via their computer. After this initial set-up process, users will be able to see their Instant Streaming Queue from their Netflix account.
In order to be eligible for an instant streaming disc, you must have a $9 per month Netflix subscription (or higher).
Instant streaming for the Wii was announced back in January—a little behind its competitors in the console-turned-box-top market such as the Xbox 360 and PS3.
A couple of weeks ago, select Wii users with Netflix subscriptions had the chance to try out the new streaming discs. Our own Peter Smith wrote a hands-on impression of Netflix streaming on the Wii—according to his experience, the Wii was a pretty decent platform for streaming video, despite the fact that it doesn't support HD video (480p maximum resolution).
If you don't want to buy a new console, set-box, or DVD/Blu-ray disc player—you can order your free instant streaming Wii disc through the Netflix website, and start watching 480p instant streaming Netflix movies and TV shows…in one to two business days.
Wii
Price When Reviewed:
$289.97