Compared to the iPhone's tiny onscreen keyboard, the version on the iPad is nearly touch-typable, especially in landscape mode. But if you plan to use your iPad for serious data input—such as writing an article like this one—you'll want a real, physical keyboard.
Apple's official option is the iPad Keyboard Dock, which combines an iPad-optimized version of the company's no-keypad keyboard with a sturdy dock base. But one of our favorite iPad surprises is that you can instead use any Bluetooth keyboard, including Apple's own super-portable Wireless Keyboard.
Whichever you choose, the advantages of an external keyboard go beyond the tactile differences between an onscreen keyboard and a physical one. Apple's real keyboards also give you more keys, special-function keys, and the capability to use a number of standard Mac keyboard shortcuts.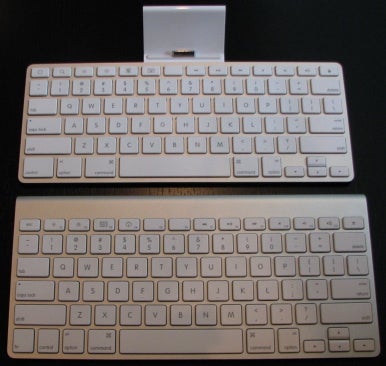 For example, you can use the keyboard's arrow keys—alone or in combination with Command, Option, and Shift—to navigate your document and select text. Editing shortcuts such as Command+C (copy), Command+X (cut), Command+V (paste), Command+Z (undo), and Shift+Command+Z (redo) also work with external keyboards, and you can use Option-key shortcuts for typing diacritical characters. Even some Cocoa/emacs editing shortcuts—for example, Control+A, Control+E, and Control+K—work. (Mac Bluetooth keyboards are a better fit for the iPad than are Windows versions for many of the same reasons a Mac keyboard is a better fit for a Mac than is a Windows keyboard, only more so: on an iPad, you don't get Mac OS X's options for swapping modifier keys.)
But which should you choose, the iPad Keyboard Dock or a Bluetooth keyboard? It depends on how you plan to use an external keyboard. I've been using both options over the past week or so; here are some things to consider when making your decision.
Cost
The iPad Keyboard Dock and Apple's Wireless Keyboard each costs $69 (unless you're a Mac user who already owns the Wireless Keyboard, in which case this decision is easy). But keep in mind that to use the latter, you'll need some kind of dock or stand. You can use Apple's iPad Dock, but that will set you back another $29.
If buying the iPad has busted your budget, an inexpensive dock alternative is a cheap book or document stand—before receiving my iPad Dock, I used a $5 book stand that had been sitting in a drawer for the past couple years. Going this route also lets you choose whether to position the iPad in landscape or portrait orientation. (The iPad Keyboard Dock and iPad Dock hold the iPad only in portrait mode.) With either solution—official Dock or makeshift version—you can connect the iPad's dock-connector cable to charge or sync, although with a generic stand, you can't connect headphones or speakers at the same time in portrait mode, since the headphone jack and dock connector are on opposite ends of the iPad. (Apple's Docks provide an audio output.)
It's worth noting that some iPad cases—for example, Apple's $39 iPad Case and Incase's $60 Convertible Book Jacket—also act as stands, but I haven't yet seen a model that offers good positioning in both horizontal and portrait orientation. Winner: Keyboard Dock, unless you already own the Wireless Keyboard
Portability
For many users, an external keyboard will serve mainly as a "docking station" that you bring your iPad home to. But an iPad and an external keyboard together weigh less than most laptops, so for some people, the combination may be a desirable alternative to a laptop for lots of typing on the road.
So which is more portable? While there are some tiny Bluetooth keyboards out there, Apple's Wireless Keyboard is the smallest I've seen that still provides full-size keys and a Mac layout, making it an ideal partner for the iPad. The Wireless Keyboard weighs only 11.4 ounces and is just three quarters of an inch thick in the rear; most of the keyboard is only an eighth of an inch thick, letting it slip easily into even a crowded bag—if your iPad will fit, chances are the Wireless Keyboard will fit, too. Of course, you'll need some sort of stand or dock, but my cheap book stand weighs only 3.8 ounces and folds flat; Apple's iPad Dock—which is 1.25 inches tall at the top of its cradle—weighs 5.2 ounces. So the total weight of Apple's Bluetooth keyboard and a dock or stand will be somewhere between 15 and 17 ounces.
The Keyboard Dock, on the other hand, weighs a surprisingly heavy 21.4 ounces (see the next item), is 7.25 inches deep, and is 2 inches tall at the top of its dock cradle, making the unit bulky for carrying in a laptop bag. Winner: Bluetooth keyboard
Stability
One of the Keyboard Dock's biggest advantages over a Bluetooth keyboard and a separate dock is stability. Thanks to its heavy, deep base and non-slip bottom, the Keyboard Dock is unexpectedly secure. The iPad doesn't shake at all while you're typing, and even when you tap the very top of the screen, you get only a tiny bit of wobble. This is a welcome feature considering that, even with the keyboard's special-function keys (see below), you'll be tapping the screen often. In a pinch, you even can place the Keyboard Dock on your lap; as long as you keep your knees together, you can type with decent stability.
Apple's iPad Dock is more stable than I expected, but you get quite a bit more wobble than with the Keyboard Dock. My cheap book stand is actually sturdier than both, as the back of the iPad rests on a metal bar, but, again, you lose the benefits of Apple's dock cradles. Winner: Keyboard Dock
Ergonomics and angle
I was surprised to discover that each of Apple's two Docks holds the iPad at a noticeably different angle: The iPad Dock tilts the top of the iPad back approximately 10 to 15 degrees; the Keyboard Dock tilts the iPad back about 30 to 35 degrees. The greater angle of the Keyboard Dock is necessary because it places the iPad so close to you—the iPad must lean back a good amount to give you a good view of the screen. When using the iPad Dock, you can simply push the dock farther away for a better view.
Separating the dock and keyboard also gives you the flexibility to get the best ergonomics out of your setup: When at your desk, you can place the iPad at the proper height for a display, while placing your keyboard much lower—or even on your lap. Winner: Bluetooth keyboard
Special keys
The Keyboard Dock's other big advantage is that it provides, in place of traditional function keys (F-keys), a number of special-function keys. Specifically, the top row of the Keyboard Dock's keyboard includes dedicated Home, Spotlight, Picture Frame, Onscreen Keyboard, and Screen Lock keys, as well as keys for screen brightness (Down and Up), media playback (Back, Play/Pause, Forward), and volume level (Mute, Down, and Up). The playback controls control playback even when the iPod app is in the background.
Of those special keys, Apple's Wireless Keyboard provides only the brightness, playback, and volume controls. It adds an Eject key, which acts as an Onscreen Keyboard key when used with the iPad, and an Escape key, which can be used only in limited circumstances—for example, to dismiss a suggested spelling correction instead of having to tap on the tiny onscreen X button. (The Wireless Keyboard's fn key does nothing when used with an iPad.)
(I also tested a third-party Mac Bluetooth keyboard, MacAlly's $70 BTkey. The BTkey worked well with the iPad, and has the advantage—a major one if you frequently work with numbers—of a numeric keypad. On the other hand, the BTkey has even fewer special-function keys than the Wireless Keyboard: just Volume Down, Volume Up, and Mute. As with the Wireless Keyboard, the Eject key brings up the iPad's onscreen keyboard.)
As Dan Miller mentioned in his review of the Keyboard Dock, while its iPad-specific keys are convenient, they're not as useful as they could be. For example, the Home key brings up the iPad's Home screen—or, if you're already looking at one of your Home screens, switches you to the first Home screen—but you still must tap the screen to launch an app. It would be great if you could use the arrow keys to select an app and then press Return to open it. And it's worth pointing out that two of the Keyboard Dock's four unique keys—Home and Lock—have counterparts on the iPad itself, and a third, Spotlight, can be approximated by pressing the iPad's own Home button twice. Still, I found the Keyboard Dock's special keys to be handy to have. Winner: Keyboard Dock, but barely
Flexibility
The Keyboard Dock offers the flexibility of being able to sync and charge your iPad while you work. However, as I noted above, you can largely do that with the Wireless Keyboard, as well. In fact, the Wireless Keyboard's biggest advantage may be its flexibility. Even if you put aside the fact that the Wireless Keyboard can serve double duty—pairing with your Mac and your iPad—it just lets you do more: It's convenient to use on the road, at home, or at the office. You have more flexibility in placement. You'll be able to use it when your iPad is docked in one of the many iPad speaker systems we'll soon be seeing. You can even use the Wireless Keyboard as a very basic remote control—if your iPad is playing music while docked, you can skip tracks and play/pause from across the room. And with the right stand or cradle, you can use the Wireless Keyboard even if your iPad is in landscape mode. (I expect to see a number of third-party docks that let you sync and charge in both portrait and landscape orientations.)
In fact, this last item points to the Keyboard Dock's biggest limitation for me: Portrait mode is fine when typing in Pages or other apps where your documents tend to have a paper-like aspect ratio. But I use a good number of apps where I prefer landscape orientation when typing; Mail and Safari are just two of the most-obvious examples. And don't forget that the Keyboard Dock won't accommodate an iPad in a case. Winner: Bluetooth keyboard
Decisions, decisions
For those who plan to do most of their external-keyboard typing in a single location, and whose documents tend to use portrait orientation, Apple's Keyboard Dock is great for bringing the iPad home and plopping it in to type, sync, and charge. The Keyboard Dock is also surprisingly stable and offers a number of unique special-function keys. But for everyone else, I think Apple's Wireless Keyboard is the better way to go: It's better for travel, it can be used in a wider range of situations, and it offers most of the Keyboard Dock's special features. (Of course, If you've already got Apple's Wireless Keyboard—or another Bluetooth keyboard—give it a try with the iPad; if you're happy with it, you just need a dock or a stand.)