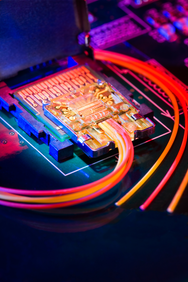 Intel sees its Light Peak technology for linking devices by optical cable as potentially succeeding USB 3.0, a change that in several years could mean the disappearance of a port used almost universally in gadgets today.
Intel, which announced Light Peak last year, hopes it will be broadly used by devices ranging from PCs to consumer electronics and other gadgets, said Kevin Kahn, an Intel senior fellow, in a speech at the Intel Developer Forum (IDF) in Beijing. Intel will make the technology available late this year and expects partners to start shipping devices with it next year, Kahn said.
"We view this as a logical future successor to USB 3.0," Kahn said. "In some sense we'd… like to build the last cable you'll ever need."
A trend toward optical instead of electrical links raises the risk that separate optical cables could appear for many protocols, such as USB and serial ATA, said Justin Rattner, the head of Intel Labs, on the sidelines of IDF. Light Peak can run multiple protocols at the same time over one line, so all the data meant for the separate cables could run through one Light Peak cable instead.
USB is currently widely used to link between devices. Gadgets often made with USB ports include computers, mobile phones, digital cameras and external hard drives.
Intel insists there is no conflict between the two technologies. The company sees Light Peak and USB 3.0 as complementary, as Light Peak enables USB and other protocols to run together on a single, longer cable and at higher speeds in the future, according to a slide in Kahn's IDF presentation. "We expect both to exist together in the market and perhaps on the same platform at the same time," the slide said.
A laptop with Light Peak built in was on show during Kahn's speech. A long, thin Light Peak cable, which linked the laptop to a docking station and a monitor, was used simultaneously to transmit Blu-ray video, a feed from a high-definition camera and a duplication of the laptop's display onto the other screen. Light Peak can currently transfer data at a speed of 10G bps (bits per second), or fast enough to send a full Blu-Ray movie in less than half a minute, according to Intel. But the technology could be scaled up to 10 times that speed in the next decade, Intel says.
The Light Peak cable plugged into the laptop through a USB 3.0 port with components added to receive the optical signal. When asked if that would be the standard port used for Light Peak, Kahn said USB 3.0 is a likely place to start because it is common, but that "you could take the size way, way down." That could reduce the amount of space needed for a Light Peak port, a crucial consideration for small devices like handheld computers.
The laptop in the demo could still accept normal USB 3.0 devices in its USB port.
USB 3.0, the latest version of USB, is far slower than Light Peak with a signalling rate of 5G bps. But it remains much faster than the current version of USB. Still, USB 3.0 is not yet widespread in devices. That is partly because many PC manufacturers will wait on USB 3.0 until support is built directly into the chipsets they buy, which is only expected to happen late next year, according to a research note from In-Stat.
Intel, which is a major vendor of PC chipsets, did not immediately reply to a question about whether it will launch chipsets with built-in support for USB 3.0. A spokesman for rival chip maker Advanced Micro Devices said the company will have chipsets with built-in support for USB 3.0 but declined to say when.
When asked if Intel would build Light Peak support into its chipsets, Kahn said the company could do so if Light Peak spreads quickly, but declined to comment further.
Intel expects an industry group promoting Light Peak to launch next year, Kahn said. The company has said it will work with the industry to make Light Peak a standard and speed its adoption.
Intel is also looking at whether Light Peak will be relevant for data centers, but it has not reached conclusions yet, Kahn said.
Intel argues that existing electrical cable technology is approaching limits that optical technology can surpass.
"What we want to see over time is a crossover" from electrical to optical connectors, Rattner said.