An updated version of the Google Mobile App, tweaked to provide better support for the iPad, has hit the App Store worldwide. The app allows users to access many of the company's online services, such as GMail, Calendar, Docs, and so forth, as well as offering search functionality such as search by voice.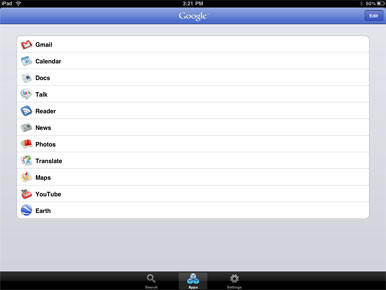 In an announcement on Google's Mobile Blog, software engineer Alastair Tse explains that the update aims primarily at making the current version of Mobile App work on the iPad by taking full advantage of the increased screen space. However, no new iPad-specific features are part of the release, although Tse hints that they might be coming at a later date.
Rather than release a separate version of Mobile App for the iPad, Google has chosen to integrate the new functionality in a single Universal binary—which means that the new release will automatically provide the best functionality for each user based on the device they use.
Google Mobile App can be downloaded for free from the App Store and is compatible with iPhone and iPod touch devices running iPhone OS 3.0 or higher, as well as iPads running at least version 3.2 of the operating system.