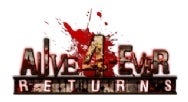 Top-down shooters and zombie games are a dime a dozen in the App Store, and for good reason. They're popular.
Meridian Digital Entertainment surely knows this—after all, it already has a successful zombie-shooting iPhone game in the form of Alive 4-ever. So perhaps that explains the developer's decision to go the sequel route with the appropriately named Alive 4-ever Returns.
The new game aims to capitalize on the original (and the title) by adding new skills and power ups, additional weapons like rocket launchers and sticky bombs, and environmental effects. Returns has been developed on a brand new game engine and features four-player co-op mode and achievements through OpenFeint.
The $3 Alive 4-ever Returns is slated for release at the end of April. Watch the zombie carnage in action in a YouTube trailer below.