At a Glance
Expert's Rating
Our Verdict
Editor's note: The following review is part of Macworld's GemFest 2010 series. Every day from mid July through August, the Macworld staff will use the Mac Gems blog to briefly cover a favorite free or low-cost program. Visit the Mac Gems homepage for a list of past Mac Gems.
atMonitor is a powerful utility that, like OS X's Activity Monitor, allows you to monitor every process running on your Mac, whether it's user or system-initiated. But atMonitor offers much more in the way of information about the activity you're seeing, including detailed information about the version of the running application, where that application is located on your Mac, and, if it's available, a detailed description of what that application does.
atMonitor offers several technical tools to help you keep tabs on everything that's happening on your Mac, including a floating window, Dock display, and menu item that display usage information for your CPU, RAM, any attached disk, and other system processes. You can also set triggers for specific processes, so, for example, if you want to see a message every time your CPU percentage pops over 65 percent, you can configure atMonitor to watch your CPU and then send you a message as soon as that threshold is reached. atMonitor can also keep a detailed log on every process, providing you with in-depth information for everything that your Mac is doing during while you're monitoring your computer.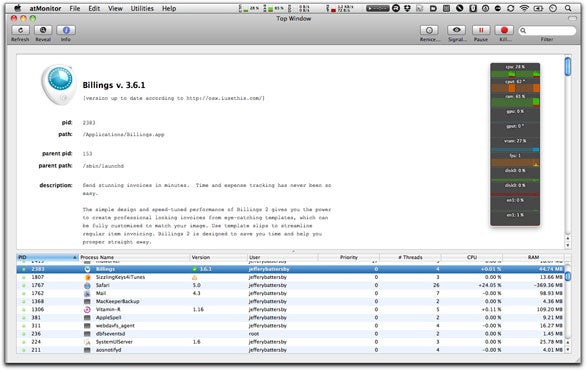 The program provides application information using data from the Website osx.iusethis.com. Most of this information is displayed in a small window that appears above atMonitor's process window. Clicking the small Info button that appears in the menu bar takes you to osx.iusethis.com, where you can read and post ratings the for the applications you're looking at.
atMonitor is an excellent replacement for OS X's Apple-supplied Activity Monitor offering detailed application and process information for both the curious and IT techs alike.
Want to stay up-to-date with the latest Gems? Sign up for the Mac Gems newsletter for a weekly e-mail summary of Gems reviews sent directly to your inbox. You can also follow MacGems on Twitter.
Our 186-page Mac Gems Superguide is a veritable greatest hits of Mac Gems. It's available as a PDF download, PDF on CD-ROM, or as a printed book. Learn more about the Mac Gems Superguide.
[Jeffery Battersby is an IT Consultant, Apple Trainer, (very) smalltime actor, and regular contributor to Macworld. He writes about Macs and more at his blog.]