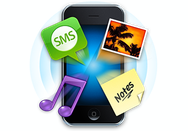 Ecamm Network on Thursday released version 2.4.1 of PhoneView, its $20 Mac application that allows iPhone and iPod touch users to access the full contents of their devices without using iTunes. The latest version of the app adds support for the iPad as well.
Also new are an enhanced message viewer and more exporting options for text and multimedia messages. MobileMe and Exchange contacts are now listed under separate groups and the app now allows you to drag photos from the viewer directly to the Finder. There are a few other cosmetic changes and bug fixes as well.
Although iTunes provides a convenient zero-step method to synchronize data and media between your Mac and your iPhone/iPad, it does not allow you to browse that data once it is on your portable device. More importantly, Apple offers no official solution for accessing and managing the call log, text messages, voicemail, notes, and other such data from your Mac.
This is where PhoneView steps in: You can search through your call log and text messages while your iPhone is docked to your Mac without being restricted to the limitations brought on by the device's smaller screen. You can also create and delete notes on your iPhone directly from your Mac (and, as an added bonus, it does not use Marker Felt to display them).
If you own an iPad, you not only have access to all the other data and media mentioned above that's relevant to it, but you can also copy the e-books on your iPad to your Mac. PhoneView includes options to archive all of the data it can access and the latest version has the ability to print or export as PDF any of the data mentioned above.
PhoneView requires Mac OS X 10.4.11 or later and iTunes 8.1 or later as well as any iPhone, iPod touch, or iPad.