There are two kinds of people who attend baseball games—those of use who dutifully record each and every play on our scorecard, and philistines. You can probably guess which side of the divide I fall on.
The ugly truth is, I had a lucrative part-time career in high school and college keeping score for local recreational softball leagues. The gig put money in my pocket and gave me a pretty solid working knowledge about the rules of baseball and softball. But it also had an unintended side effect: any game I attend—major league, minor league, company softball game—I have to keep score. I've got a footlocker down in the garage stuffed with scorecards dating back 15 years. And if I were to pull out any one at random, I could probably give you a fairly faithful account and description of the game in question based on nothing more than some squiggles I made in a scorebook ages ago—depending on how many beers I had at the game, that is.
As much as I enjoy—or at least, am compelled to perform—the lost of art of keeping score at a ballgame, I wonder if there's a more modern way to do things. The basic tools of scorekeeping—a pencil, a pad of paper, and a working understanding of symbology—have remained virtually unchanged since baseball took root in the late 19th century. Perhaps, there's a way to drag the practice kicking and screaming into the 21st century.
I'm not the only person to entertain that thought, apparently. The App Store has a number of scorekeeping apps, each aimed at helping you painstakingly record each hit and out of everything from a Major League Baseball game to your kid's next Little League tilt. The iPhone can do so much, the thinking goes—check airplane arrival times, stream live video, help you balance your checkbook. Surely, it wouldn't be too much to ask to have it help you record how you went 3-for-4 with a pair of ribbies against those jerks from accounting in last week's softball game.
Well, it might be too much to ask, actually. Because I just spent some time testing a trio of scorekeeping apps in advance of the newly-arrived baseball season. And while at least two of those offerings will get the job done, they managed to suck every last bit of enjoyment that I would otherwise derive from keeping a meticulous scorebook.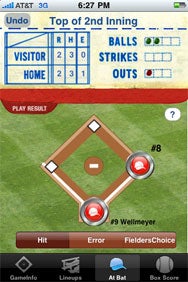 Let's dispense with the worst app first. ScoreKeeper Baseball from Flash Forward Software is strictly a bush league offering. There's no way to erase games—my ScoreKeeper menu is cluttered with half-scored games I abandoned out of frustration with the app's many shortcomings. From what I can tell, ScoreKeeper doesn't save player names—you've got to re-enter data with every new game, even if you're using it to track the same team over the course of a season.
Things don't improve any once you start scoring games. The boxes to tick off balls and strikes are approximately flea-sized and not all that easy to tap if you have fingers wider than a tendril. When there's a hit, you drag the batter around the diamond to the appropriate base. It's a clever approach in theory that doesn't really work in practice—I found the baserunners didn't always cooperate with my dragging, particularly as we got deeper into games. If you manage to score a complete game with ScoreKeeper—you'll never have to prove your endurance in any other feat again, by the way—there's seemingly no way to get the resulting box score off your phone. No e-mail, no PDF, no syncing—unless I was so blind with rage from using the app that I overlooked the option.
All that makes ScoreKeeper horrible enough. But the app also suffers from a show-stopping bug. In first inning of each game I scored with ScoreKeeper, the app skipped the home team's leadoff batter. Forget whether Scorekeeper is easy to use or even well-designed—it can't even handle the fundamental task of having the right batter at the plate.
I've tested more than my share of iPhone apps in the past two years and edited scores more. ScoreKeeper is the first one that ever made me want to hurl my iPhone away in frustration. I'm glad I didn't—stadium security would have probably ejected me, and I would have been out a damn nice phone. But that doesn't make ScoreKeeper any less of a disaster.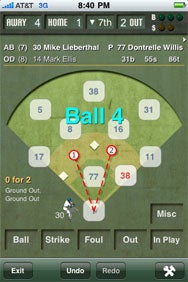 Matters improve dramatically with iScore Baseball Scorekeeper and Pointstreak K-Force, which will at least allow you to score a complete baseball without taking Abner Doubleday's name in vain. Which is not to say the either app will be making me leave behind my scorebook any time soon—iScore and K-Force each have their strong points, but neither struck me as much of an improvement over pen and paper. (Note that there's also a separate version of iScore for the iPad which I did not look at for this review.)
iScore from Faster Than Monkeys obsesses on the details and will probably appeal to scorekeepers who believe no detail about a game is so minute that it shouldn't be recorded somewhere. That's fine for them; for me, the app felt like overkill. iScore requires that you record where on the field the ball was hit (with a tap), it strongly suggests you designate whether outs were grounders, lineouts, pop flies, or fly balls, and it's pretty insistent that you tally up balls and strikes, including foul balls. You can skip that last step, but the running pitch count that the app keeps on the screen will be wildly inaccurate. It would be better for iScore to give you the option to turn ball-and-strike counts off.
Recording even the simplest of plays is similarly involved. Let's say there's a basic groundout to shortstop—a simple 6-3 putout. With iScore, you have to first tap the Out button. Then you tap that the out was a ground out from an extensive menu from options. Next, you tap where on the diamond the ball was hit, and you have the option of designating whether it was a soft, medium, or hard grounder. Next, you tap everyone who touched the ball on the play—the shortstop and the first baseman—and then you tap done. That's a minimum of six taps just to score a humble grounder.
In his seminal book The Joy of Keeping Score —and yes, there is a seminal book on baseball scorekeeping—Paul Dickinson writes, "Part of the charm of scoring is that it will not heel to conformity… your scoring system is your own, and there is no right or wrong way to score." iScore very much disagrees with that sentiment, insisting that there is a right way to score—its way. I would rather use the aspects of the app that I like and ignore the ones I feel are overkill, but iScore really doesn't offer that option.
I'm also not a fan of how you enter roster information into iScore. Like everything else associated with this app, it's an involved process. If you enter player names through the app's Team Manager feature, you have to tap in a first name, a last name and a uniform number. (The latter isn't required per se, but since iScore's interface relies on numbers to show you who's playing where, it's a good idea to include them.) You also tap to designate what position a player is listed at and, confusingly, whether the player is batting. (The latter command seems to determine whether the player is in your starting lineup or not.) You can also set whether the player bats and throws right-handed or left-handed—that enables some unnecessary eye candy in iScore's main interface. iScore assumes that you're entering players by batting order. It's easy enough to edit lineups by dragging names around, but again, it's an instance where the app forces you to do things a particular way.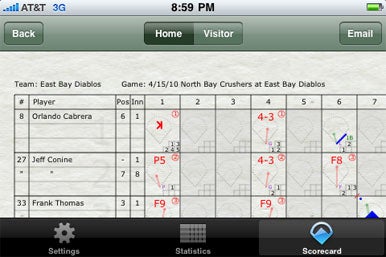 I don't want to sound completely dismissive of iScore. The app has a number of strong points—particularly when it comes to formatting reports and box scores. After a game, you can send out an e-mail that contains a PDF with the scorecard, as well as HTML, CSV, and XLS files. The PDF looks gorgeous, and the record-keeping is meticulous, making iScore an ideal choice for tracking stats for any baseball or softball league team that you (or your kids) are on.
iScore also features a number of clever options and add-ons. A TwitterCast feature lets you tweet game updates directly from the app. More impressive, the i-ScoreCast capability posts pitch-by-pitch updates to the Web. If you're using the app to score Major League Baseball games, an in-app purchase can save you a lot of data entry, by letting you import the 2010 rosters of each team for $20.
An update released just this week added even more features, if such a thing is conceivable. Version 2.60 lets you share games and rosters between devices via Bluetooth or an Internet connection. It also adds a Left On Base stat to the box score and adds a number of options to the list of Outs, among a host of other features. (The app also seems more prone to unexpectedly quitting now, though, thankfully, never when I'm in the middle of a ballgame.) None of these changes really impact my impression of iScore: It's a very capable, extremely thorough scorekeeping app that will surely appeal to many users. I just don't happen to be one of them.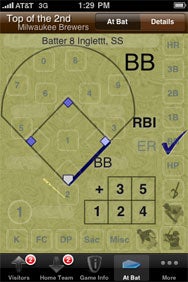 Pointstreak K-Force from Pointstreak.com is a mobile version of a desktop app for Windows PCs. Being a humble Mac user, I focused solely on using K-Force as a standalone iPhone app. On that score, it's a solid choice, allowing you to easily track games without the rigid approach that iScore demands.
You can track pitches or designate where a ball was hit with K-Force—but you don't have to, if you don't want to. Instead, scoring a play takes only a few taps. That 6-3 putout that took six taps to record in iScore? Just tap 6, then 3, then Next Batter in K-Force, and you're good to go. Similarly, base hits can be tallied with just a single tap if you want. Even more complex plays are relatively easy to score thanks to a fairly intuitive interface in K-Force.
Which is not to say the app handles everything with aplomb. K-Force will advance a runner on first if there's a base hit, but if that runner takes an extra base, the burden's on you to make that adjustment on your mobile scorecard. (You tap the runner, then tap the base he's advanced to, then select from a lengthy list of options as to how he got there.) Scoring an out when a runner is retired advancing that extra base is even more involved, but after a bit of study, I think I figured out how to do it. I can't say the same for substitutions, particularly when a pinch hitter stays in the ballgame to play defense—my final box score always ends up wrong. I'm sure the fault is mine, not K-Force's, but when I make a substitution on a paper scorecard, I can be pretty sure that I recorded things accurately. With a mobile scoring app, I don't have always that confidence.
E-mailing boxscores and scoresheets to myself after the game proved equally hit-or-miss. Sometimes, I would get a report; sometimes it would land in my spam filter. Other times, K-Force would quit while the report was being sent. PDF, CSV, TXT, and HTML files look fine when they do show up, although one time a scoresheet I thought I had sent as a PDF arrived in my Mac's inbox as a file my Entourage client couldn't open. iScore's batting average is a little bit higher here.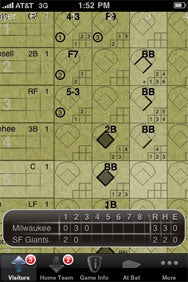 But K-Force definitely has some hidden value. The app includes links for downloading publicly accessible—and free—team rosters, including the 2010 rosters for Major League Baseball. There's also the free Pointstreak K-Force Lite, which offers the same scoring functionality of the $10 version, though it won't track season stats for a team. The PDF reports for the paid version are also much more detailed, showcasing a number of situational stats. If you're just looking to score a handful of games on your iPhone, the lite version of K-Force is a perfectly viable option.
The question is, though, would you want to score a baseball game on your iPhone or iPod touch? From the collection of apps reviewed here, if you told me that I had to keep score of a baseball game on my mobile device, I would pick K-Force because I found it to be the easiest to use for recording plays. I would grudgingly use iScore, comforting myself that at least the stellar postgame reports would make up for the in-game frustrations. (If you told me to use ScoreKeeper Baseball, I would never watch a baseball game again.)
But the key part of that proceeding paragraph was the bit about having to score a game on my phone. In testing all of these apps—even the recommended K-Force offerings—I never really enjoyed myself, not the way that I do with a physical scorepad on my lap. I spent nine innings fretting that I recorded something incorrectly. In day games, I found it hard to always see the screen in the bright sunlight, particularly after tapping it repeatedly with my sunscreen-stained fingers. And keeping one app open and running for the duration of a nine-inning baseball game can put a crimp on your battery life.
No, this is one area where the iPhone can't improve on the analog way of doing things. A pad of paper and a pen may be the old-fashioned way of keeping score at a ballgame, but if it means being able to use the system I want, I'm happy to be old-fashioned in this instance.
[Macworld.com executive editor Philip Michaels can tell the players without a scorecard. He'd just prefer not to.]