For a winning mix of classic real-time strategy gameplay, online multiplayer options, and humorous dialogue, Robocalypse from Vogster Entertainment is definitely worth a look.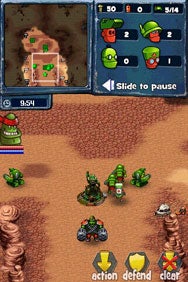 The game has a wacky storyline revealed through cartoon cut scenes between missions. It seem there's been a mix-up at the robot factory leading to the creation of an evil robot army lead by The Demolisher—an insane robot bent on destruction. The main character and unlikely hero, Myron Mako, creates a new batch of robots with the minds of old WWII vets. By controlling these new robots, Myron seeks to destroy The Demolisher and his minions to save the world and get the girl. The crazy story not only serves to propel the game along but provides for a few good laughs as well.
Robocalypse features a campaign mode with 17 missions playable in three modes of difficulty. The missions all have different objectives ranging from guarding your base for a certain amount of time to destroying enemy headquarters.
You even have two multi-player options—local WIFI and online. There are 18 different maps to choose from in multi-player mode and up to four armies can be played at a time. I had no problems finding people to play with during my testing, and things ran pretty smoothly. Having this option extends the life of the game and adds much more fun.
Robocalypse has all the real-time strategy elements you would expect, like constructing buildings, gathering resources, and training troops and heroes. Each of the heroes have unique skills and weapons, as well as the ability to lead your troops. Your heroes even gain experience throughout the game, allowing you to upgrade their skills and weapons between missions. Aside from the normal troops and builders, you can train medic robots that follow around and heal your soldiers.
While everything worked well overall, there is a bit of a learning curve to the game's controls. Luckily, the beginning of the game gets you familiar with how to control the robots and construct buildings; things go pretty smoothly from there. To move your heroes, you just tap them and then the spot on the map where you want them to go. Controlling the troops is done by taping either a defend or attack button and then a spot on the map. The troops respond pretty well ,but occasionally get lost and wander around.
Robocalypse's interface is one aspect that annoyed me. Nearly a quarter of the screen is taken up by a mini map and information bar, making everything feel a little cramped. Having a mini map is nice and the information displayed is important, but there should be a way to hide all this so you can see more of the actual game.
Robocalypse has nice-looking graphics that fit the humorous tone of the game well. The audio really adds to the experience with great sound effects and funny voice overs. If you enjoy real-time strategy games. I'd definitely suggest scooping this one up for its $1 download price.
[Tim Mercer is a technology enthusiast, graphic designer, and blogger, whose blog, digital-artist-toolbox.com, offers free resources to the digital artist and graphic designer.]