Tuesday marks the start of the Electronic Entertainment Expo (E3), the most important gaming show of the year, and Macworld is here covering every announcement, reveal, and demo we can get our hands on.
Centered in the spacious Los Angeles Convention Center, the biggest and best publishers and developers are all vying for time on stage to show their wares. With such a transformative year for Mac gaming, there are still many questions that need answers, but here are three big ones that will hope be resolved by the end of the week.
What is Valve's big reveal?
Valve has already canceled its big announcement party and delayed Portal 2, but the company that brought us Portal and Half-Life still has a "surprise" in store for us. Valve has shot down many of the rumors, but some of the whispers have to be pretty close to the mark.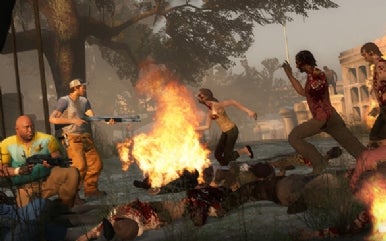 For those who haven't been paying attention, there were rumors of Valve using E3 to announce Left 4 Dead 3. Left 4 Dead 2 is barely a year old, but Valve seems more willing to update and expand that franchise than others. There's also been speculation that Half-Life 2: Episode Three will finally get a release date. That's only speculation, of course, and Gabe Newell has flatly denied it. Still others have conjectured that it's time for Valve to announce its Source Engine 2, the next generation engine for its games. The original Source engine was used to build pretty much everything Valve has become known for, including its Half-Life 2 series of games. This last rumor is perhaps the most intriguing, as it would mean that Valve is actively developing a new, big title (Half-Life 3?) with graphics and gameplay that are a step above what it can offer on its Source engine.
Will Nintendo or Sony respond to Apple?
Mac gamers may roll their eyes when they hear of fanboys geeking out for Nintendo or Sony announcements, but Mac gamers have a reason to pay attention this year as well. Apple has quietly started eating into Nintendo and Sony's mobile gaming market but so far the gaming giants haven't responded. Nintendo's various DS launches have had mixed success, so it'll be interesting to see if it doubles down on the DSi XL or goes with something different. Sony's PSP Go is a sad Band-aid trying to heal a mortal wound.
Will Nintendo or Sony open up their platforms to third parties the same way Apple has? Or is it too late? Gaming on the iPod and iPhone has become so popular because virtually anyone can use Apple's tools to design and build a game. Nintendo and Sony have used a more conventional development model for their mobile platforms, and while they have higher-end games, neither platform offers the quick-turnaround or low-development costs of Apple's iPhone OS.
On an intellectual level, it'll also be interesting to see how Nintendo will respond to Kinetic and Sony Move, who have in many ways closed the gap in motion-controlled gaming. Nintendo has to prove the Wii isn't just a gimmick for casual gaming and show that the system can evolve and adapt to the changing gaming landscape. There aren't many exclusive titles for the Wii that interest hard core gamers, and Nintendo needs to address that. While it's likely the company will stick to announcing some bread and butter franchises (Mario, Zelda, Metroid, etc), the platform also desperately needs some new blood and some new icons. Increasingly, the old guard of gamers have migrated to Sony and Microsoft's FPS-happy systems, but Nintendo may have some magic left. To mix metaphors, the ball is in Nintendo's court: both Sony and Microsoft have come out with their guns firing.
How will OnLive change the industry?
Imagine using an old Mac Mini to play the latest hit games for PCs and consoles. Imagine seeing these games play with a flawless frame rate and their highest resolution. Imagine never having to invest in an expensive graphics card again, or dropping a thousand dollars for a new tower, or constantly having to update your hardware. That's the promise of OnLive.
Due to a pre-E3 embargo, there hasn't been much fanfare to greet the launch of OnLive, but don't let that fool you: more than anything else this week, OnLive has the power to change the Mac gaming landscape. When the cloud-based gaming service was announced at 2009's GDC, no one could believe that the company would make good on its promise: allowing people to play high end games on almost any machine, from Mac Minis to old Dell PCs to your TV set.
If OnLive can really produce fast, streaming content from its servers to your home and render the graphics card arms race a thing of the past, OnLIve will have changed the face of gaming forever. Imagine playing high-end titles like Crysis on your Mac Mini, or Arkham Asylum on your iPad. If publishers get on board, it could mean a complete shakeup of the conventional gamer model.
[Chris Holt is a Macworld associate editor.]