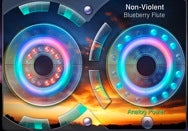 While there's no shortage of music apps for the iPhone, Amidio's newly released iHolophone app appears to be one of the more full-featured offerings.
Not just a drum sequencer, not just a monophonic instrument, iHolophone contains a fully programmable drum sequencer as well as a 64-bit sound engine that generates various musical timbres with novel touch screen controls. The user controls the pitch of the instrument with iHolophone's HoloDiscs—two touch sensitive disks that each represent an octave of sound. You can control the attack, release, vibrato, volume, and portamento of your notes simply by changing the finger position inside the HoloDiscs. Tilting the iPhone back or forward will bend the pitch of the note.
iHolophone's drum machine/rhythm sequencer allows for 8-track stereo sequencing and supports triplets and swing. Amidio has also included a generous set of factory sounds and sequences with 60 modern instrument sounds, 800 high-quality percussive and melodic sequencer samples, and 70 background pictures. This adds up to 250MB of sounds and graphics, and a whole lot of bang for the buck. To top it off, iHolophone also includes stereo reverb and delay effects, sample pitchshift and timestretch, and Twitter and Facebook integration.
The full version of iHolophone is available for $7, but if you just want to dip your feet in the water, the iHolophone Free "Happy B-Day" edition is available for the appealing price of free. (It lets you play "Happy Birthday to You" to sure-to-be-impressed friends and loved ones.) Watch a video of the iHolophone in action: