Earlier this year, I spent some time in Italy. Despite a lack of any familiarity with Italian, by the end of the week I'd managed to become more or less proficient at navigating public transportation, figuring out street signs, and even ordering a meal. Because, different though the language might be, all of those were tasks I could map onto familiar experiences.
The experience of switching to iOS 7 is kind of like that: Some things might look wildly different, but underneath them are the same old familiar experiences we've become accustomed to over the last six years. It'll take some time to get used to the changes—just as many of us struggled to adapt to Apple's "natural" scrolling back in OS X Lion—but after about a week, you'll be back to tapping and swiping like an expert.
That's not to suggest that iOS 7 is just a face-lift of Apple's mobile operating system. As busy as Apple design chief Jonathan Ive and his team of designers have been creating a new visual language for iOS, the company's software guru, Craig Federighi, and his group have been equally hard at work crafting new features and ways for users to get more done with less effort.
Design may be the watchword of iOS 7, but as Steve Jobs once noted in a sound bite destined to be repeated as long as history remembers him: "Design isn't just how it looks. Design is how it works." iOS had in some ways reached a plateau over the last six years, with successive updates reduced to picking off the increasingly sparse low-hanging fruit. So Apple has done more than just change the way iOS looks and feels. It has also reimagined the way iOS works.
The look, the feel of iOS 7
What's perhaps most striking about the look of iOS 7 is not just what's different, but also what's the same. Critics might be tempted to dismiss iOS 7 as simply a palette swap: thin lines where there used to be thick, text where there used to be buttons, simple icons where there used to be complex ones. That's true within reason: In plenty of the apps, like Notes or Stocks, the functionality hasn't really changed—just the look has been updated.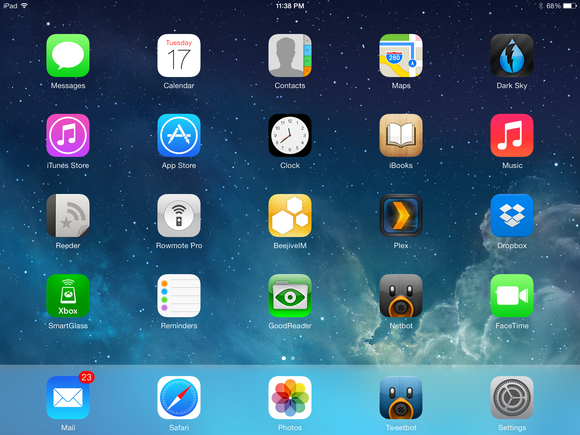 But when you consider the gestalt, something else emerges, like the hidden image in an autostereogram. Over the course of iOS's development, its design had begun to diverge in different directions: in one direction, the over-the-top skeuomorphism of Find My Friends, Notes, Reminders, Compass, and so on; in the other, the more utilitarian sensibilities of workhorses like Mail, Safari, and Messages.
With iOS 7, Apple has tried to impose a single, consistent experience across its operating system and apps. Not in terms of making apps that all look the same, but rather by establishing a vocabulary of design that can be used to construct apps.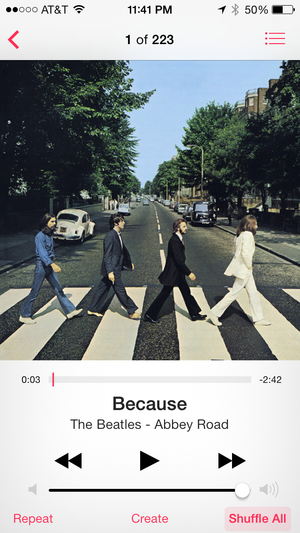 For example, buttons are by and large gone in iOS 7, replaced in many places by text. At first, this struck me as counterproductive, but the more I thought about it, the more I realized how much we're all used to tapping or clicking on text now. We click on hyperlinks every day on the Web. We tap on the name of the song we want to hear on our iPhone. We've long clicked the words File, Edit, View, and so on when using our desktop operating systems. Clicking words as a way of performing actions is second nature to us by now, and I'd posit that in many scenarios it's actually easier than trying to decipher arbitrary-looking icons.
(That said, it can be confusing when you want to use a toggle, like the Shuffle button in iOS 7's Music app—I still have trouble figuring out the difference between it saying Shuffle, meaning the command, and Shuffle All, which refers to "the current status of your music playback.")
Not only would I argue that Apple's vast undertaking is by and large a success, I'd go even further: iOS 7's design has stripped the system down to the very essence of what iOS is.
Case in point, the Calendar app. In previous versions of iOS, Calendar on the iPhone was kind of a mess. The Month view showed a calendar-like block of dates over a scrollable list of events. That list only barely became usable with the introduction of the iPhone 5's larger screen; prior to that, you could see only an event or two. Even on the later iPhones, the interface was only barely usable in that mode; you were better off with the Day and List views, but even those felt as though they lacked a kind of logic. All three views were more or less presented as equals.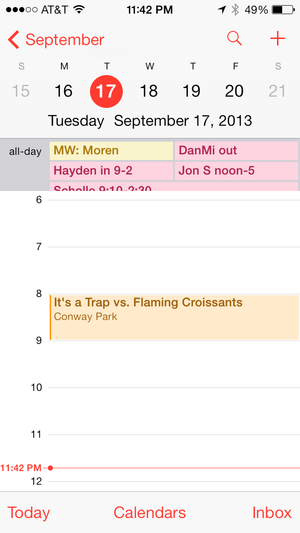 Contrast that with Calendar in iOS 7: Now there's a clearly defined hierarchy. The Year view is the top level; tap any month to drill down into that; tap any date in the Month view to see what's happening on that day. The top left corner reflects this hierarchy, just as it does in Mail. It makes sense in a way that the earlier versions of Calendar didn't.
And that Day view, which is now the default, is far more usable than its predecessor; it makes better use of space, has a cleaner design, and even provides a scrollable week calendar.
Note: When you purchase something after clicking links in our articles, we may earn a small commission. Read our affiliate link policy for more details.