For some time, Ego has been the undisputed king of "personal analytics" on the iPhone. It lets you add small widgets for watching your follower count or Website traffic across services like Twitter, Google Analytics, and Vimeo. Ego must have been left unchecked, though, because it grew so out of control that it's made the leap to the big screen as a brand new app.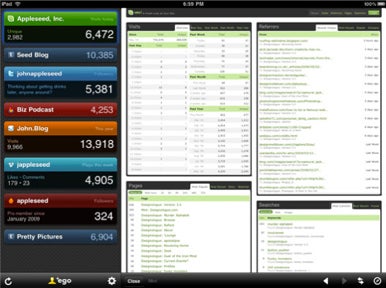 Ego for iPad offers the same widget system, but while the iPhone version is limited to viewing compact, widgetized stats for the services it tracks, the supersized iPad edition lets you actually log into those services and take advantage of the rest of their data or interact with other features. You can log into Google Analytics or Mint and view all your Web traffic stats, or even log into Twitter and reply to @mentions. As a result of these new features, though, it works only in the iPad's landscape mode.
As far as the breadth of Ego's confidence-inspiring abilities go, it has so far supported Ember, FeedBurner, Google Analytics, Mint, Squarespace, Twitter, and Vimeo. With its iPad debut and a recent iPhone update, Ego also now supports viewing your Tumblr follower count. On the iPad, you can even log into your Tumblr dashboard to view posts from the people you follow or create new posts. Unfortunately, there is no way yet to synchronize the services you add between Ego versions, but that's what updates are for.
Ego for iPad is available now for $5 in the App Store; it requires an iPad running iPhone OS 3.2 or later.