Someone at Apple really doesn't like caricatures. Pulitzer Prize-winning cartoonist Mark Fiore is just one of the artists over the past year to create or contribute work to an iPhone app—only to see it rejected as "obscene, pornographic, or defamatory." And yet, with enough bad press on the matter, Cupertino seems willing to change its stance.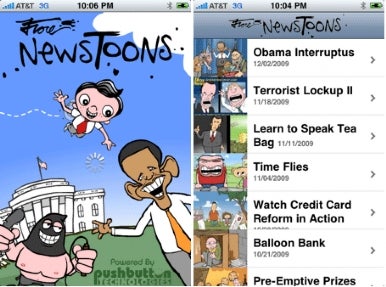 According to The Wall Street Journal, Fiore received a call on Thursday from an Apple representative suggesting that he resubmit NewsToons, a series of political spoof animations he had collected into an iPhone app. Apple rejected the app back in December 2009, but news of the rejection only came to light this week in an interview Fiore gave when he won a Pulitzer Prize.
That interview includes the rejection notice Fiore received from Apple, in which the company tells him that apps "may be rejected if they contain content or materials of any kind (text, graphics, images, photographs, sounds, etc.) that in Apple's reasonable judgement [sic] may be found objectionable, for example, materials that may be considered obscene, pornographic, or defamatory."
A media storm followed Fiore's revelation, building upon previous app store rejections, with some accusing Apple of extending its reach too far into the realm of editorial rejections. Tom Richmond, an editorial cartoonist, caricature artist, and illustrator for MAD Magazine, on Friday posted the following to his blog:
Mark's story is striking a bit more serious chord than Apple just being overly Draconian in their app approvals. With the introduction of the iPad, the focus of content for these devices moves out of the convenience of having a few apps in your pocket and into the promised land of a media delivery/consumption device… Apps for publications and newspaper content won't be very useful if it only lets us see stuff that Apple and Steve Jobs thinks we should see, and rejects things they don't like."
Richmond had similar issues last year when artwork he contributed to an iPhone app called Bobble Rep got rejected for much the same reason that Fiore's app was blocked. The program was approved a few days later after his rant on the matter was picked up by several major news outlets.
As for Fiore? "I feel kind of guilty," he said in an interview, in regards to Apple's phone call. "I'm getting preferential treatment because I got the Pulitzer." However, according to the Journal, that won't stop him from most likely resubmitting the app in the future.
Sure, Apple may not want to venture into the realm of pornography on the App Store, but at the same time, there are inherent dangers when moving beyond the technical aspects of an application and into editorial content. Hopefully these initial stumbling blocks will serve as warnings to the company, not encouragement.