UK- and New Zealand-based developer EuroSmartz has announced the release of version 1.2 of its popular PrintCentral app, which, as the name implies, brings printing capabilities to iPhone OS devices. Although PrintCentral is a Universal app that can be installed on iPhone, iPod touch and iPad, all the major changes that have made their way into this version were developed specifically for the last of those devices.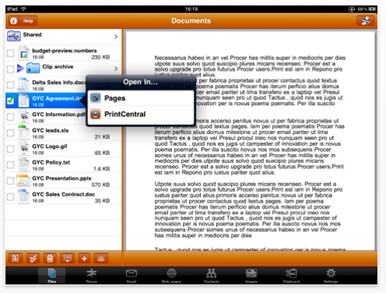 First up, the new version of the app can now take advantage of iPhone OS 3.2's Document Sharing feature. That allows Print Central to register itself as one of the apps that show up in the "Open in…" popover that appears when you tap-and-hold on a file in compatible applications, such as Mail. Thus, you can now receive a file by e-mail and immediately send it to PrintCentral either for printing or or storage and transfer. Similarly, PrintCentral allows you to send a file to other applications on your iPad using the same mechanism.
In addition, the app now supports the ability to sync documents both to and from your computer via USB through the "Apps" tab in iTunes, just like Apple's iWork apps do. And, speaking of iWork, PrintCentral is also capable of opening files from a WebDAV-based cloud storage service like Apple's own iDisk directly in Pages, Numbers, and Keynote, without having to download them first.
PrintCentral, which can be had for $10 at the App Store, is a Universal app that requires iPhone and iPod touches running iPhone OS 3.1.3 or higher, as well as iPads running version 3.2 or higher.