Photography apps for the iPhone tend to fall into one of two categories—specialty apps that focus on a single task (or, at most, related tasks) and multipurpose all-in-one offerings that try to cram in as many functions and features as possible. Camera Plus Pro from Global Delight falls in the latter category, by promising to do almost everything a camera app possibly could. From tasks as simple as taking a photo and saving it to your camera roll to taking a series of shots in burst mode, changing the brightness and saturation of the best one, and then uploading the altered image to Flickr, Camera Plus Pro does it all.
I only wish it did it all better than it does.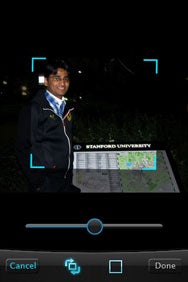 Given the number of features Camera Plus Pro offers, I thought the app might take longer to launch than the iPhone's default camera—that's not the case, though. Camera Plus Pro launches quickly, presenting you with a screen very similar to what you'd get from the default camera app, with a big button in the center of the custom toolbar on the bottom to capture an image. Tap the button, and Camera Plus Pro captures the image, geotagging it in the process and giving you options to make adjustments to it on the next screen.
The app differs from the iPhone's camera tool—not to mention other App Store offerings—with the sheer variety of options available to you before and after you capture an image. Tapping the icon on the very left of the screen brings up a list of choices. You can use Point Zoom to zoom in on any spot you've selected before taking the shot. A horizontal slider lets you zoom in on an image, as well. Since the lens on an iPhone is not movable, however, this is only digital zoom, which means a lower quality picture.
I found Camera Plus Pro's Burst Mode and Timed Capture features more interesting. The former lets you take a configurable number of shots with a tap at one second-intervals, while the latter adds a user-specified interval between the time you tap a button and the moment the shot is taken. Camera Plus Pro also offers a gridlines feature that divides the screen into a 3×3 grid so that you can compose the shot. The rather bluntly named Big Button feature turns the entire screen (except for the buttons on the toolbar) into a shutter release button. (Note, however, that the 3×3 grid and Big Button disable the manual focusing feature of the iPhone 3GS; otherwise, that 3GS-specific feature works just fine in Camera Plus Pro.)
Once you've captured an image, Camera Plus Pro's menu lets you perform any one of a number of edits—add an artificial flash, crop the photo, rotate it, and make adjustments to brightness, saturation, tint, sharpness, and contrast. You can also add some rudimentary filters (which essentially change the image's tint), a copyright notice, or some tags. All of these features work pretty well, and the large multi-touch display makes it fun to play around with them. One caveat: Camera Plus Pro warns you that any changes are final.
Camera Plus Pro recently added video capture to the app's already impressive roster of features. The toggle on the right-hand side of the toolbar allows you to switch from a still camera to video capture mode. Unlike the video capturing feature in the default camera application, you get live digital zoom and a choice of six filters to choose from in Camera Plus Pro. The quality of the captured video is exactly the same as it is with the default app. This feature is accessible to iPhone 3G and first-generation iPhone users, giving them video capabilities their phones otherwise lack.
When you're satisfied with the final result, you can opt to e-mail your photos or publish them on Facebook, Flickr, Picasa, or Twitter; you can also e-mail or post videos on Facebook, Twitter or YouTube. Any tags you've slapped on your image will be sent to sites that support them. I found upload times to be pretty fast over 3G and Wi-Fi; EDGE understandably takes a little more time, though uploading will work.
It's an impressive array of features, but the app comes up short in some areas. Camera Plus Pro's main screen isn't much to look at—there's a blue glow around the icons and no text anywhere. As you start using the app, you'll find screen upon screen of increasingly garishly designed buttons, ugly color choices, and ill-conceived fonts. The app's Setting screen is practically a guide for what not to do when designing iPhone applications.
The workflow is a little disappointing as well, though Camera Plus Pro has made some progress in that area. Previously, you had to wait in between shots—at least 10 seconds, according to my watch—because the app would bring up a Quick Roll to save your images into after every shot. After a recent update, the app no longer does that; you can keep snapping shots without giving the Quick Roll so much as a second thought. Still, you need to manually sync images from the app's Quick Roll to the phone's Camera Roll every once in a while. The Quick Roll strikes me as clumsy and unnecessary.
As for the marquee video capabilities added in Camera Plus Pro's 2.0 update, I wasn't terribly impressed with the quality of the video captured by the app on an older iPhone. Different users have different standards of what's acceptable or not, but I thought the video looked more like a low-resolution flip book of still images. I spoke with Global Delight, which says it's aware of the video quality issues and working on a version that offers some improvements. And to be fair, there's only so much the developer can do given the limitations of the iPhone and iPhone 3G when it comes to video capture.
It's worth noting that Global Delight is very diligent about adding new features and improving old ones. Over the course of this review, for example, the 2.2 update came along to deliver the faster photo saving features I've already mentioned, along with live-zoom and video filter features for iPhone 3GS users. An update due at the end of April promises more video filters and sharing methods.
Global Delight offers a free version, Camera Plus, with fewer features than the $2 Pro offering. Most notably, the video capture capability is missing in Camera Plus, making it a viable option for users who don't need or want the video-capture features of the paid version.
The premise of Camera Plus Pro is certainly enticing, and the app delivers an impressive set of features. If you're looking for an all-in-one camera app that will not just let you snap images but make some on-the-spot edits to them and share them with others, Camera Plus Pro is worth a look. But connoisseurs of good design—both in terms of usability and appearance—might find this app a little disappointing.
[Aayush Arya is a frequent contributer to Macworld.]