If you've ever hung out with photographers packing iPhones, you know it's just a matter of time before they're passing them around and showing off their photo albums. I used to do this myself, but now the iPhone stays in my pocket and I pull an iPad out of my daypack. My photos and slideshows look even better on the iPad's 9.7 inch, 1024-by-768 resolution, 132 pixels per inch, backlit LED display.
There are a handful of apps in the App store that will help you display your work on an iPad, with more being added every day. But I've found that I can do just about everything I need using the bundled Photos app and the iPad version of Keynote ($10).
Get your photos onto the iPad
At first glance you may assume that the iPad Photos app is just a simple piece of software. But like many Apple applications, it's unexpectedly useful, especially if you fill the iPad with your best photos by syncing it with iPhoto or Aperture on your host Mac.
There are other syncing options too, such as bringing in specific people from your Faces collections, libraries, or events from iPhoto. How you use these options will depend on your philosophy for using the iPad as a display device. Personally, I don't want "all" of my photos on it, only my best. But you can build Smart Albums for just about any criteria.
If you're not an iPhoto or Aperture user, you can still import photos onto your iPad. In the Photos tab for your iPad in iTunes, select Other from the Sync Photos From drop-down menu, then navigate to the images you want to upload. Selecting a folder will bring up a list of its nested folders in iTunes, if there are any. Click on the Selected Folders radio button, then check the boxes by the folders you want to sync.
Using the Photos app
Once you have your images loaded in to the iPad, you can use the included Photos app to show other people your work. Here are some navigation tips:
Photos View When you first open the Photos app, you'll see a row of tabs at the top of the screen, in the middle. At the minimum you'll have Photos, and if you've added any pictures or synced with Aperture or iPhoto, you may also have Albums, Places, Events, and Faces.
The Photos tab brings up thumbnails of all the images stored on your iPad. If you want to send someone images from your iPad, tap on the arrow in the upper right corner of the Photos app interface. This brings up the Select Photos mode. You can send photos by tapping once on the thumbnails you want to select, then tapping the E-mail button in the upper left corner of the interface. Unfortunately, you can only e-mail 5 photos at a time. To get around this limitation, you can select as many images as you want, then tap the Copy button instead (located to the right of the E-mail button), and then paste those images directly into the body of an e-mail. Tap the Cancel button when you are done.
Albums View If you synced albums from iPhoto or Aperture, you can locate them by tapping on the Albums tab (or Events or Faces tab if applicable) on the top of the Photos screen. Each album looks like a stack of photographs, with the last image in the Album resting on top. Tapping on an album will bring up thumbnails of just those images, along with the same Slideshow and Edit functions found in the Photos view.
Individual Images When you tap on a thumbnail, you bring up a full screen version of that image. Tap once to make the menu bar disappear (or wait a few seconds for it to go away on its own). You're not limited to only jumping to the next or previous image while in full-screen mode. Thumbnails for the rest of the album are in arranged in a row at the bottom of the screen. Tap once with one finger on a thumbnail to go directly to that image.
Double-tap with one finger on any area in the photo to zoom in to that spot. Double tap with one finger to return to the full-screen view. If you want to switch to thumbnail view, use two-fingers and tap once on a photo. You can copy photos in either the thumbnail or full view by holding down a finger on the image until you get the Copy command, then paste the picture in to other iPad apps, such as Contacts.
If you want to control how long each image is displayed in a slideshow, you have to leave the Photos app and go to the Settings application. Chose Photos from the list of apps listed on the left side, and you'll see the Play Each Slide For option. Make your choice and return to the Photos application.
Upgrade to Keynote
If you want more authoring flexibility for your photography presentations that what's available in the Photos app, take a look at Keynote for the iPad.
Not only can you play your Keynote creations on the iPad, but you can transfer them as .key or .pdf files. There are two easy ways to do this. Method one is to export the file from Keynote then move it to your Mac when the two devices are connected. Go to the My Presentations view in Keynote and click the arrow button at the bottom. Choose Export from the popup menu, then pick either the Keynote or PDF option from the Export Presentation dialog box. Now connect your iPad to your Mac and launch iTunes. In iTunes, click on the iPad icon and go to the Apps tab, scroll down to File Sharing, click on Keynote in the Apps submenu, and you'll see the presentations you've exported from the iPad. Click on the one you want to transfer, then click on the Save To button, and you can put the presentation anywhere you want on your Mac.
You can then do more work on your presentation using Keynote on the Mac, or save it in a different format such as a QuickTime movie. Once you get the knack of moving files back and forth from the iPad to the Mac, you'll see that you have an amazing amount of flexibility for displaying content.
With the optional iPad Dock Connector to VGA Adapter, you can show your presentations on larger displays, such as TVs, projectors, or most anything that can accept a VGA signal.
Now, the next time someone starts pulling out their iPhone to share pictures, you can fire up your iPad and really give them a show.
iPad (2010)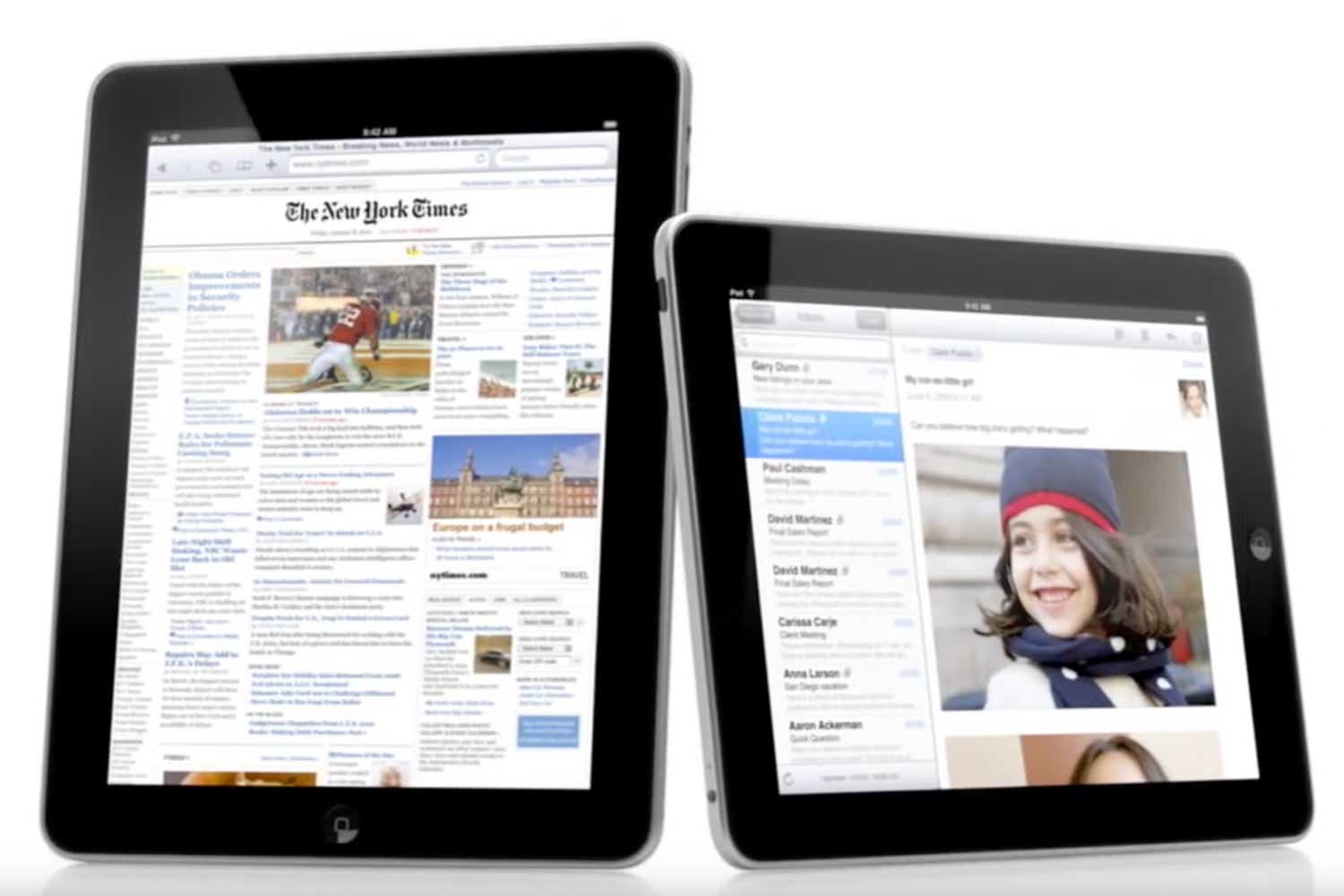 Read our full
iPad (2010) review
Note: When you purchase something after clicking links in our articles, we may earn a small commission. Read our affiliate link policy for more details.