Fluent News Reader is cooler than I thought it would be. The free app from Fluent Mobile offers quick, mobile device-optimized access to news from nearly 50 top-quality sources—CNN, Slate, the Wall Street Journal, and even PCWorld.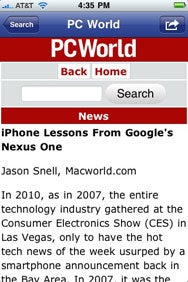 When you launch Fluent Mobile's app, it defaults to the Top News section. Headlines load quickly, with icons for the news source, timestamps, and article blurbs visible at a glance. Tap on an article, and it loads blazingly fast. That's because Fluent News Reader smartly links to mobile versions of the Web pages for each article, and those tend to load in an instant. It's easy to save an article (which stores it on another tab within the app), e-mail it, or post it to Twitter or Facebook.
To switch from Top News to another section, you tap the Sections tab. All the major news categories—Entertainment, US News, and Technology—you'd expect to find are there. I do wish there were a way I could pin my favorite section to a tab, or change the default tab from Top News to another category, but using the Sections tab isn't overly cumbersome.
The Search tab nearly accomplishes what I'm after, anyway: You can save up to three searches, which get pinned to the top of the Sections tab.
By default, Fluent News lets you disable up to one source, and choose to get more stories from one other source. An in-app upgrade is available for what's dubbed "Premium Access." That disables the (inoffensive) ads, and allows unlimited custom search-based sections, and unlimited fine-tuning of sources. Premium Access runs $2 for one month, or $3 for three months.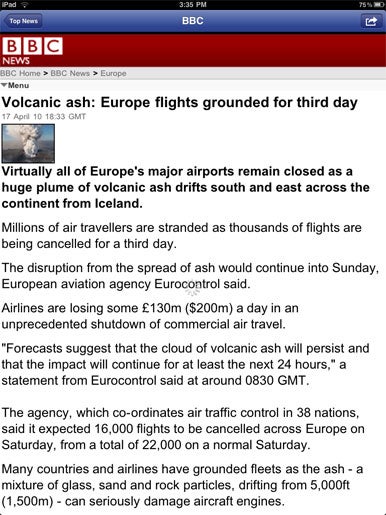 With the arrival of the iPad, Fluent News was updated to become a hybrid app that ran on both the iPhone and the iPad. I was thrilled when I heard the news, though unfortunately, Fluent News on the iPad is just an enlarged version of Fluent News on the iPhone. And, frankly, that's too darn big. As I mentioned, the app links to mobile-optimized versions for the articles it lists, and the iPad's screen is much too large for that. Stretching a single column article to the full width of the screen, in either orientation, doesn't scale well at all. I almost never use the app on my iPad now, which is a big—oversized—disappointment.
Fluent News is fast, full of top-notch sources, and a snap to use. iPhone-toting news junkies will find it a powerful way to browse headlines, while iPad users should hold out for a more optimized version.
[Lex Friedman shares more punditry and insights at his blog.]