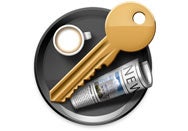 Germany-based Equinux has announced the release of version 6.2.1 of its VPN Tracker product, which can now be used to better interoperate with VPN devices from WatchGuard Technologies.
The new version of VPN Tracker supports a number of WatchGuard's VPN appliances, including the XTM-2, 5, 8 and 10 Series, as well as the Firebox X Edge, Core, and Peak e-Series firewalls. Like its predecessors, VPN Tracker still supports a wide variety of VPN connection protocols, including PPTP, L2TP and IPSec, and provides a unique "Secure Desktop" feature, which allows users to access documents in a protected environment that can be customized for each client and connection.
VPN Tracker 6.2.1 requires OS X 10.4 or higher and works for both Intel- and PowerPC-based Macs. It is available in three variants, ranging from the $99 Player edition, to the $129 Personal edition, to the more feature-rich $269 Professional version. Current version 6 customers can get the update for free, while owners of previous versions of VPN Tracker can take advantage of various upgrade offers directly from the company's online store.