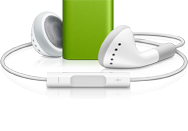 Having problems with your Apple headphones? You might not be alone.
The company on Monday announced a replacement program for the newest revision of its iconic white earbuds, which "may fail under certain conditions," according to the Apple Support Website. The replacement specifically targets the Apple Headphones with Remote included with the 3rd generation iPod shuffle (shipped between February 2009 and February 2010), but also notes that the Apple Headphones with Remote and Mic and the Apple In-Ear Headphones are available for replacement as well.
If you notice any of the following issues with your headphones within two years from the date of purchase—the controls are non-responsive or work intermittently; there are unexpected volume increase or decrease; or there are unexpected playing of voice feedback—Apple will replace them at no cost to you.
You can exchange them at an Apple Store (Genius Bar appointment recommended), or through the mail. Follow the steps listed on Apple's Replacement Program Website—you'll need the serial number of your iPod or iPhone, a shipping and billing address, and your credit card information (in the event that you don't return the malfunctioning headphones)—and the company will send a replacement and a pre-paid return envelope to your door.
The iPod Shuffle serial numbers valid for the Apple Headphones with Remote fall in the following two ranges:
xx909xxxxxx to xx952xxxxxx
xx001xxxxxx to xx004xxxxxx
If you have the Apple In-Ear Remote and Mic Headphones or the Apple Headphones with Remote and Mic, you'll still need to provide the serial number of your iPhone/iPod or of the headphones themselves, but all serial numbers are covered under this replacement program. Your headphones should have the following remote on the right earbud cable to be valid:

Lastly, if you're having problems with your headphones and they don't qualify for this program, know that as long as your iPod or iPhone is within warranty, you can book a Genius Bar appointment and exchange them for free. All you need are the offending headphones and the serial number of your iPod or iPhone.