Editor's Note: The following article is reprinted from CIO.com. Visit CIO's Macs in the Enterprise page.
Some good iPhone apps with an international flavor can make your stay across the border a little easier. CIO.com has spotted three that perform very different tasks for the globetrotter.
One app, NileGuide, taps local expert knowledge to give you the inside scoop on places to stay, where to eat, things to do. If you're in a Spanish-speaking country, another iPhone app, Jibbigo, delivers the best voice-to-voice translation available on a mobile device. Then there's an app that provides the latest currency exchange rate, called eCurrency.
International travelers would do well to consider these apps before hopping on a plane. So bring your iPhone wherever you go. (Warning: But don't bring your newly minted iPad to Israel.)
NileGuide: A Global Travel Guide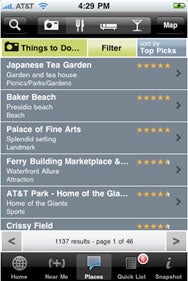 Maybe you've got an extra weekend in London, thanks to a volcano throwing up ash and grounding planes, and thus need a cheap hotel. After a long day at a tech conference at the Moscone Center in San Francisco, perhaps you want to grab a beer at a nearby local spot, such as the Gold Dust Lounge off Union Square. Looking for a kid-friendly restaurant in Rome?
NileGuide: What's Next ($3) is a kind of global guidebook that provides travel information such as hotels, restaurants and activities, for some 250 destinations around the world. NileGuide employs 75 local experts at top destinations to augment, distill and filter content and user ratings from partners such as OpenTable, Citysearch and Frommer's.
NileGuide is a location-based service app, which means the iPhone needs an Internet connection. On the other hand, NileGuide caters to business travelers in mostly metropolitan areas where coverage isn't as big a hurdle as in rural areas or the open road.
"We're not really focused on the 18-to-24 backpacker crowd," says Josh Steinitz, CEO of NileGuide, adding, "More than 50 percent of business trips include a leisure component."
Jibbigo: Voice-to-Voice Translation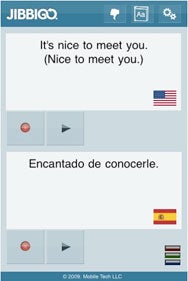 If you're in a Spanish-speaking country, China or Japan and can't speak the language, you should take a serious look at Jibbigo, a cool voice-to-voice translation app. Jibbigo apps for different languages ( Spanish, Chinese, Japanese) are only available for the iPhone 3GS and a bit pricy, ranging from $25 to $30.
Created by Alex Waibel, a professor of computer science and language technologies at Carnegie Mellon University, Jibbigo apps are arguably the most sophisticated in the App Store. For a complete review of Jibbigo for Spanish, check out CIO.com's story: Not Bilingual? $25 iPhone App for That Translates Spoken English and Spanish.
Just speak into the iPhone in either English or another language, and in a few seconds a voice translates your words. Translations also appear in written form. The first Jibbigo app to hit the App Store, the English-Spanish app, has translation-probability scenarios and a 40,000-word vocabulary tuned to the needs of travelers, as well as for medical situations.
Waibel and his team spent three years developing the underpinning technology, including a year spent solely on the iPhone piece. The trick was to develop clever algorithms for small platforms that tap into the iPhone's considerable processing power and memory. This enables fast translation without an Internet connection so that people can use the app in areas where there isn't much coverage.
A recent update to the app improves translation speed, although the app still has a ways to go. Lag time between translations can be awkward, and the app often makes erroneous translations when asked to translate complex, non-travel related sentences or when there's a lot of background noise, such as at a restaurant.
eCurrency: the Latest Exchange Rate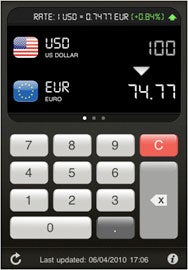 When shopping for souvenirs in a store in Lima, a sweater made from Alpaca wool might cost 100 nuevos soles. Is this a good deal? Whip out your iPhone and fire up the eCurrency app to find out the latest currency exchange rate.
eCurrency ($1) is a simple calculator that converts more than 190 currencies. The app updates the latest exchange rates from the European Central Bank and other sources upon startup. However, this can be deactivated to avoid roaming charges. The app can be used without an Internet connection but the exchange rate won't be the latest ones available.
One cool feature of eCurrency: Shaking the iPhone will inverse the calculation.
As of yesterday, the Alpaca sweater costs $35. Sounds like a good deal. (Of course, a street vendor around the corner might be selling the same sweater for 40 nuevos soles, or $14.)
[ Tom Kaneshige is a senior writer for CIO.com in Silicon Valley.]