Picking out a family pet used to mean driving from animal shelter to recuse organization and back again. That's a distant memory in the Internet age. Petfinder.com aggregates listings from local humane organizations; users can conduct customizable searches and browse the results. And, thanks to Phunware, you can now search from the comfort of your iPhone, iPod touch, or iPad with the free Petfinder.com Mobile Application.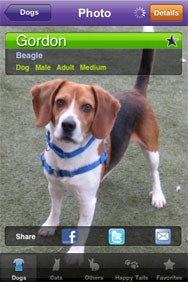 Once launched, the app provides much the same experience as the Petfinder.com Website. First, select from dogs, cats, or "other" animals. Browse through a few pages with a random sampling of pets, or tap the search button to specify the breed (including colors for cats), sex, age, and size you're looking for. Your iPhone's GPS will take care of location, unless you want to manually enter somewhere else.
Simply tap on search results to see full-screen pictures of the pets with simple stats, then tap the Details button to see a full description along with contact information. If you're particularly smitten with an animal, there are buttons to share the listing on Facebook, Twitter, or by e-mail. You can also tag favorites to assemble a list of potential adoptions. The Petfinder app also features Happy Tails—letters sent to Petfinder.com containing successful adoption stories.
Like any good iPhone app, Petfinder.com features bright colors, crisp graphics, and high quality photos. The listings translate almost seamlessly from their Website versions, with a few extras only a touch-screen device can offer, like swiping to scroll through search results or optional landscape and portrait views of photos.
Petfinder.com Mobile Application looks better than the Website, I think, though the app definitely doesn't replace the it. The app is good to keep yourself constantly updated on new listings when you're really on the lookout for a new pet, or even when you're just daydreaming about it.
[Meghann Myers is Macworld's editorial intern.]