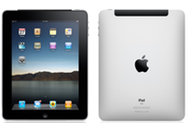 Our friends across the oceans may have to wait until May to get their fingers on Apple's magically delicious new iPad, but here in the U.S. we'll be getting the 3G iPad in late April, as promised. Very late April.
Apple announced on Tuesday that the 3G-enabled iPad would arrive for those who have pre-ordered it on Friday April 30, the same day that it will make its appearance in stores.
The rush will begin at 5 p.m. at Apple Stores, most Best Buy locations, some Apple Authorized Resellers, and campus bookstores. As with the Wi-Fi models, you'll be able to set up your iPad in the store for free with the help of an Apple employee.
The 3G model weighs just slightly more than its Wi-Fi-only sibling, coming in at 1.6 pounds to the other model's 1.5. That and a small black plastic antenna window along the top of the unit are the only real hardware differences between the two. However, for those minor differences you'll pay an additional $130. The 3G iPads come in 16GB, 32GB, and 64GB models and sell for $629, $729, and $829 respectively.
While some have wondered about the impact the 3G capability will have on the iPad's otherwise stellar battery life, Apple is promising nine hours of battery life while browsing the Web on 3G.
As previously discussed, you'll be able to subscribe to and manage 3G service from the device itself, with your choice of two plans from AT&T: a $15 per month plan limiting you to 250MB of data and a $30 per month plan of unlimited usage. Unlike the iPhone, you can subscribe to and cancel 3G service whenever you like.
Apple iPad Tablet Computer
Apple iPad Tablet Computer