Appigo on Tuesday announced the immediate availability of Corkulous, a new iPad "idea board" app. According to the developers, Corkulous is an "incredible new way to collect, organize, and share your ideas."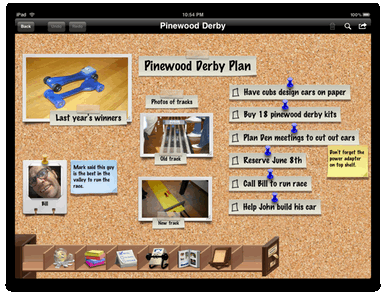 The app presents a virtual corkboard, upon which you can "fasten" text notes, photographs, contact information, and to-do list entries. You can create multiple boards, including sub-boards. Appigo suggests that you could use Corkulous to plan vacations, brainstorm your next big project, as a "family message center," or even as a study aid.
Based on its introductory video, Corkulous makes extensive use of photo-realistic objects (like tape and Post-It-style notes), and the infamous Marker Felt font.
The app is currently available for an introductory price of $3 in the App Store. Corkulous requires an iPad and iPhone OS 3.2 or later.