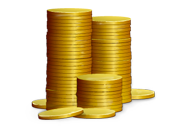 As society debates the iPad's place as a laptop replacement, giant iPod touch, or super-sized media tablet, one app maker has taken a look at its own sales figures to gauge how the device is doing and predict how it could do down the road. And to its eyes, the future looks bright.
As you may remember, Apple approved a slew of iPad apps, then opened the iPad App Store doors a couple days before the tablet even went on sale. Among those apps was Vimov's Weather HD, a weather application that sold for $1.
In anticipation of the iPad's arrival, customers immediately began snapping up apps, propelling Weather HD to the fourth best-selling iPad app on April 1, where it trailed only Apple's individual iWork apps. Vimov took the opportunity to analyze its sales over the iPad's initial weeks on sale and is now sharing its data and predictions for the iPad marketplace as a whole.
Based on curve-fitting, Vimov estimates that on April 15 (a day relatively far away from the iPad's initial launch and app purchasing rush), the top 100 paid iPad apps collectively took in $304,058 in revenue. It also calculates that the top 1,000 apps earn about $372,000 per day, or approximately $136 million in a year. Toss in the fact that international customers—who have yet to get their hands on an iPad—make up about 40-60 percent of iPhone app purchases, and Vimov estimates that iPad app sales could average $272 million per year once the iPad ventures past U.S. shores.
This could be good news for companies thinking about hopping on the iPad app bandwagon—and Vimov says it's being conservative with its figures: "If the iPad were to enjoy a lucrative growth as the iPhone's, which rose from 100 million downloaded applications in the first 2 months to 4 billion 19 months after, we can easily see the iPad's App Store becoming a $1 billion per year market in 2 years."
Before aspiring iPad app developers begin lighting cigars with $100 bills, however, some skepticism is only prudent. Keep in mind that these numbers are extrapolated from only one developer's time on the iPad app sales charts, and even then, they're still based on various assumptions, such as that app sales are directly correlated and remain constant to their respective place on the charts (i.e., an app is in first place always sells roughly X, and an app in tenth place always sells roughly Y, etc.). That said, Vimov's post contains some insightful data and interesting predictions for the future of the iPad app market.