Think it's impossible to type at a reasonable speed on a touch screen keyboard? The folks at Flairify certainly don't. Their app, TapTyping, is an iPad typing trainer that guarantees it will make you a faster, more accurate iPad typist. Offering focused lessons to improve typing speed and accuracy as well as beginner to advanced courses and metrics to track performance, TapTyping could be the first step on your way to becoming a touch-typing virtuoso.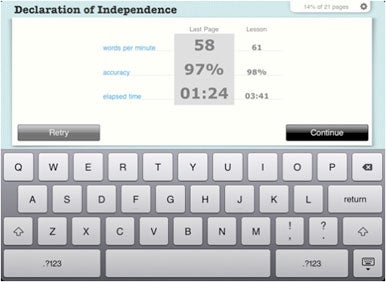 TapTyping has a comprehensive curriculum with beginner-level courses that focus on the A through Z keys; intermediate courses that add capitalization, punctuation, and numbers to the mix; and advanced courses that focus on complicated sentences, symbols, and numbers. TapTyping also links to your Twitter account, letting you type out your tweets as part of your lesson. Special courses that include the Gettysburg Address and the first two chapters of Alice's Adventures in Wonderland are included as well.
Every keystroke is tracked to the millisecond to provide precise feedback, and your progress is recorded as you make your way through the lessons, which can be repeated to further hone your skills. For those who would rather not purchase the iPad keyboard, the $6 TapTyping offers a lower-cost alternative to bring your touchscreen typing skills up to a respectable level.