Another Apple quarterly financial report, another set of broken records. For a non-holiday quarter, this one was as good as it gets. But beyond the $13.5 billion in sales and the $3.07 billion in profit, there are a bunch of smaller numbers that are worth calling out.
Staggering revenues. But wait—before I get to the smaller numbers, let me revisit that big one. $13.5 billion in revenue is Apple's second-biggest quarter ever. The biggest, of course, was the previous quarter, which covered the 2009 holiday season. This was not just a good quarter for Apple, it was huge.
iPhone success beyond expectations. When Apple sold 8.7 million iPhones during the quarter encompassing the 2009 holiday season, I don't think people were entirely surprised. Apple traditionally sells well during the holidays. But how many people expected that this quarter, the company would sell more iPhones than it did in the previous quarter? Yet that's what happened—a staggering 8.75 million iPhones, at an average selling price of $622. (You read that right — Apple's figures include the money that carriers such as AT&T pay them for the phones, which they then sell at a discount to users in exchange for signing a two-year contract.)
iPod touch on the rise. Because Apple rolls the iPod touch into the overall iPod numbers, it's sometimes hard to gauge just how well the iPhone's little phoneless cousin is doing. Fortunately, it's doing so well that Apple wanted to brag a bit, so the company announced that iPod touch sales were up 63 percent year over year. That's compared to the iPod line as a whole, which was down 1.2 percent.
So in other words: traditional iPod sales continue to fall off, but the iPod touch is gaining in popularity so rapidly that it's actually offsetting the erosion. (That 1.2 percent drop is actually impressive—the three previous quarters saw year-over-year drops between seven and eight percent.) You can even see it in the average selling price of iPod models, which keeps rising after a year and a half of erosion. The fact that the average selling price of an iPod last quarter was $171 (compared to $151 in the year-ago quarter), and that total iPod revenue increased year over year, has everything to do with the higher ticket price of the iPod touch.
Strong Mac sales in a weak quarter. Apple's fiscal second quarter, from January to March, is traditionally the weakest one for Mac sales. And this quarter there were no new Mac models at all to speak of. Yet Mac sales were the highest ever in the second quarter, and higher than the Mac sales in last year's third quarter. Desktop sales were especially strong, with more than a million Mac desktops sold for the second consecutive quarter—showing that the latest batch of iMacs are presumably a big hit.
The average selling price of Mac models was down, however, reversing a trend of rising prices in the three previous quarters. Generally that means that lower-priced models were selling as a bigger part of the mix than in previous quarters. With the average Mac laptop selling at $1240 last quarter, you've got to wonder just how much of Apple's laptop mix is the $999 MacBook. Presumably the third quarter, in which we currently reside, will see a reversal here thanks to the introduction of a whole new line of MacBook Pro models.
The revenue mix. The amount of revenue Apple gets from its three major product lines hasn't actually changed much in the past three quarters. This quarter 28 percent of Apple's revenues came from the Mac, with 14 percent from the iPod and 40 percent from the iPhone. (Other stuff—such as software, services, and music—accounts for the remaining 18 percent.)
If you look at the overall revenue picture for the three lines, it's clear that the Mac continues on an upward swing, while the iPod slowly trends down. The iPhone, meanwhile, is launching into the stratosphere: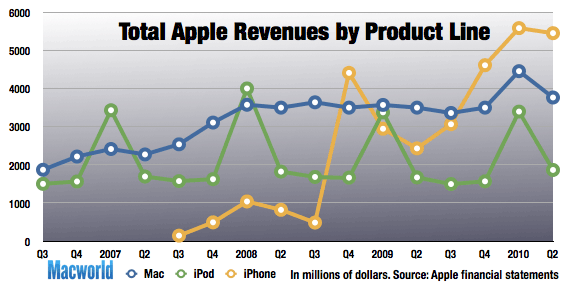 And Apple officials once again pointed out that the company basically breaks even when it comes to app sales and music sales. Despite pundits who claim that Apple retains a tight control over the App Store in order to guarantee profits, it's clear that the company sees all the various iTunes-related stores as a means to an end—namely selling their own products.
Nothing new on iPad. Apple continued to use superlatives to describe the iPad launch, almost giddily admitting that they underestimated demand for the product. (Hence the delays in international availability.) Of course, all those iPad sales will be counted in the company's third quarter results—which we'll learn about in three months' time. Company officials did say today that they will be breaking out iPad units and revenue separately on their financial statements, as they do currently with the Mac, iPod, and iPhone lines. So we'll have a bead on just how the iPad is doing, quarter by quarter.
Conservative Apple, blue skies ahead. Apple is notorious for providing conservative guidance—in other words, when it comes to future forecasts the company tends to under-promise and over-deliver. Keep that in mind when you consider that the company expects next quarter to deliver between $13 billion and $13.4 billion in revenue. In other words, even conservative Apple expects next quarter to be its third-best of all time—and at least 34 percent better year-over-year.
If history is any indication, that means the company probably has a good chance of blowing past this quarter's results when everything's tallied in July.
iPhone 3G (8GB)
Price When Reviewed:
$299