The iPhone supports push e-mail out of the box—if you use the right e-mail setup. If you use a Yahoo, Gmail, or Microsoft Exchange account, you already have access to near-instant email delivery to your iPhone. But if you use a different e-mail account, it's tougher to get push notifications for new e-mails. That's where Push Inbox, a free app from Less Code, comes in.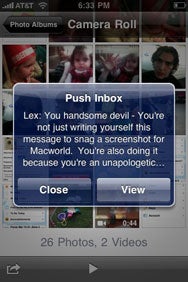 When you first run the app, you're prompted to create a (free) getpushinbox.com account. Once you've done that, anyone with whom you share that e-mail address can send you e-mails, and you'll get alerted about them very quickly, via push. The app also creates a unique, unchangeable numeric key for you; you can share that instead, if you prefer not to disclose your Push Inbox username. You even get a webpage—http://getpushinbox.com/username—that anyone can use to send you direct messages. (My recommendation: Don't use an overly-obvious e-mail address, because the only thing worse than spam must be spam with push notifications.)
The getpushinbox.com service offers even more fine-grained control, if address privacy is a concern. You can create up to ten e-mail aliases, and ten corresponding extra numeric keys. Each of those bonus addresses offers numerous custom options—unique subject prefixes, message quotas, or even expiration dates after which they simply stop receiving messages. (Note that most of these features are configurable only via the Web interface.)
Composing and receiving messages in Push Inbox works well. You can write messages to any valid e-mail address. What you can't do, though, is access any of your iPhone's contacts. The app offers its own address book, and even if you take the time to put your contacts' address into it, it won't autocomplete them as you type: you must view the in-app contact list and pick your recipient there.
In my testing, messages arrived very quickly—within minutes—when sent to my Push Inbox account. The app offers a clever preference, allowing you to choose whether the push alerts you receive should offer the "slide to view" functionality (which automatically launches the app); I appreciate that because oftentimes when I unlock my iPhone after unknowingly having received an alert, I'm annoyed that it immediately launches the notifying app. You can also configure "sleep hours," during which the app won't bother alerting you to new messages—a nice touch.
Messages I sent from Push Inbox tended to take a minute or two to reach my recipients, longer than the immediacy I tend to expect from e-mail, but not slow enough to complain about.
Now, while the app itself is free, Push Inbox does come with a cost. Your first 50 messages are free. After that, you'll need to make an in-app subscription purchase. One year of service costs $3, 3 years costs $7, and 5 years cost $10.
You have options if you want push-enabled e-mail on your iPhone. But if none of the other choices work for you, you could do a lot worse than Push Inbox.
[ Lex Friedman likes to push his luck.]