Like historical photography? Life.com's new Life Mobile iPhone app may just make your day.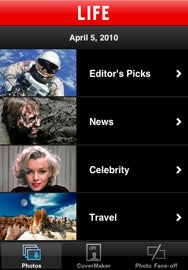 The program, released on Monday, catalogues the entirety of Life.com's image gallery—which it claims is the largest available online—for your viewing pleasure. Photos run the gamut, from the latest in breaking news to archival snapshots from events like Woodstock. Users can also import their own personal photos and create a Life magazine cover with them.
The third and final feature puts the user in the shoes of a Life editor by asking them to choose which photo more appropriately belongs in the pages of the iconic magazine. By picking pictures that the majority of players favor, users can win points, used at the end of the game to determine their editing talent (though don't expect Life.com to use this as its employment test anytime soon).
Life Mobile also allows any photo within its archive to be e-mailed, tweeted, linked, or posted to your requisite social networks. The app is free to download from the iTunes Store and requires an iPhone, iPod Touch, or iPad (via upscaling) running iPhone OS 3.0 or later.
Though iTunes currently rates the app at 4+, one reviewer of the app wryly warns "easily-offended people" that some historical photographs may contain nudity—so browse at your own risk!