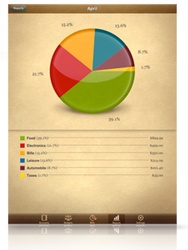 Jumsoft has announced that the updated version of Money, its popular iPhone personal financial management software, has now added iPad compatibility. The company has also released Money 3.5, an updated version of its Mac counterpart, that allows for syncing with the iPhone and iPad client.
On the iPad, Money users can perform all the familiar tricks with style: creating multiple accounts, monitoring transactions and investments, tracking bills, and maintaining a budget. The reports feature lets you analyze spending and identify areas where you might tighten up your expenses. In addition, Money for iPad and the iPhone can sync with the Mac version via Wi-Fi (no need for that pesky USB).
Money 3.5 for the Mac, meanwhile, offers improved compatibility with Snow Leopard, beefed up reports, and better import procedures. A few minor bugs have been fixed as well.
Jumsoft Money for the iPhone or iPad is free and requires iPhone OS 3.1.3 or later. Money 3.5 for the Mac requires Mac OS X 10.5 or later and costs $39; if you have version 3.4 you can upgrade for free. Users of Money 2 can get the latest version for $19.