Editor's Note: The following article is reprinted from GamePro.com. For more gaming news, visit GamePro's news page.
Clearly extremely happy with the reception to the company's first big-budget role-playing game for iPhone, producer Takehiro Ando today confirmed that his team is now working on an HD version of Chaos Rings for iPad.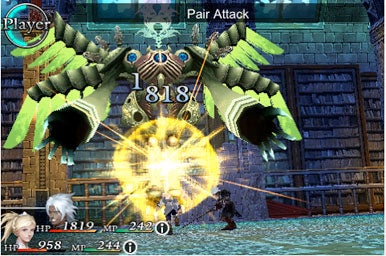 "First of all, let me thank you!" he said on the company's Facebook page. "Chaos Rings became the top grossing app in nine countries, including US and Japan! Thank you very much, I am really really happy! I want to have a party with everyone! I wish I could go all countries and see you guys!"
He then went onto explain that, "I was moved to try CHAOS RINGS HD on iPad. Creators in Media Vision are so nice and clever that actually the game launched and moved!" He went onto explain that he thinks that an iPad version is a good idea, but that he'll need to make some revisions to make the game work.
Chaos Rings (iTunes link) is currently one of the most expensive games for iPhone and iPod touch at $13, but gamers, and especially Square fans, have been extremely enthusiastic about it. The game draws on many classic Square RPG influences, and is optimized for the iPhone interface with turn-based battles and a custom user interface.