Last summer I had the pleasure of traveling with my family on an 8500-mile cross-country trip during that saw us visit 22 states and 10 national parks. It was a wonderful and unforgettable trip that my children blogged about as we travelled. After spending some time with Trip Journal, I wish we'd had this handy app along for the ride.
Offered by iQapps, Trip Journal is a clever, beautifully designed app that helps you capture the important events and places that you visit as you travel. You start using the app by creating a new trip, giving it a name and setting the trip's start point. You can set that start point manually, or you can use your iPhone's built-in GPS.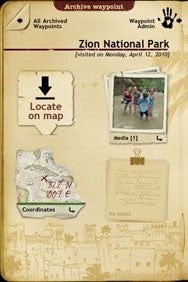 Once you set your start point, Trip Journal can then use your GPS to track every inch of your trip. When you get to a site that you want to record, you create waypoints, which highlight the specific points on your journey that you want to take special note of. Once a waypoint is created, you have the option of adding photos, video, or text notes. Photos and video can either be added from your photo library or taken using your phone's built-in camera. You can type notes from within the app itself.
Trip Journal's ability to track second-by-second updates of your location is a great feature, compiling a far more detailed roadmap of your trip than you get if you only enter information as you create each new waypoint, but I found it to be a huge drain on my iPhone's battery, sucking up nearly 50 percent of my charge in little more than an hour's worth of use.
As your trip progresses, Trip Journal offers several ways for you to let your friends and family know where you are. You can tweet your location, post updates to Facebook, or upload photos to Picasa or Flickr. Better yet, Trip Journal offers a slick Google Earth export that lets any friends using Google Earth see exactly where you've been or where you are in a beautifully-designed journal view that looks a lot like the Trip Journal iPhone interface.
Trip Journal lacks something I really wish it would add—a way to easily enter information for trips I've already taken. Technically it's possible to enter the information post-trip, but the process is so convoluted that it isn't worth the effort.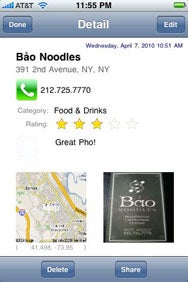 Noteworthy Places from Oblik Systems is a simple, occasionally useful app for keeping track of all your favorite restaurants, gas stations, entertainment venues, and… well, pretty much any kind of place you can imagine. Unfortunately, Noteworthy Places' usefulness is pretty limited.
Like Trip Journal, Noteworthy Places makes use of built-in GPS capabilities to help you track special places. When you open the app you have three options, you can create a new location, see a list of all the locations you've already saved, or go to the last location that you viewed in in the app. When you create a new location you have the option to entered detailed info about the place you're noting. For example, if you add a restaurant, you can enter the restaurant's name, street address, phone number, a category. and rating; you can also include voice memos, photos, and notes. Once saved, you can e-mail your Noteworthy Place to your friends.
But there's a glaring error with Noteworthy Places. The app works well for creating new places when you're physically at that location, but if you forget to add a place until later, you're pretty much toast. For example, I recently went to a great Vietnamese restaurant in New York that I forgot to add to Noteworthy Places while I was there. Fortunately, I did get a business card, so I entered the information manually when I got home. Unfortunately, the app recorded the GPS location of my house, not the map location that I typed into the address field, and I had no way to make the app recognize that the address was in Manhattan, not my house. It's a shortcoming that, for me, made Noteworthy Places a much less than noteworthy app.
[Jeffery Battersby is an IT Consultant, (very) smalltime actor, and regular contributor to Macworld. He writes about Macs and more at his blog.]