At a Glance
Expert's Rating
Pros
Added 64-bit and Growl compatibility
New compression feature
More compatible with other tools
Compatible with most discs
Cons
Beta compression feature is slow
Our Verdict
RipIt's strength remain its simplicity and ability to rip just about any disc you throw at it.
[Editor's note: The MPAA and most media companies argue that you can't legally copy or convert commercial DVDs for any reason. We (and others) think that, if you own a DVD, you should be able to override its copy protection to make a backup copy or to convert its content for viewing on other devices. Currently, the law isn't entirely clear one way or the other. So our advice is: If you don't own it, don't do it. If you do own it, think before you rip.]
As should be evident by our 2009 Macworld Editor's Choice award, we think highly of The Little App Factory's $20 RipIt. As explained by my colleague Dan Frakes, RipIt may be one of the easiest tools ever created. Simply insert a commercial DVD, click a Rip button, and within 35 or 40 minutes on most Macs, you have a copy of the disc in the form of a .dvdmedia file or VIDEO_TS folder, playable with Apple's DVD Player application or ready to convert to another format.
Since our last review, The Little App Factory has added a beta compression feature, 64-bit support for Snow Leopard, and Growl support; has made the program more adept at dealing with "difficult" discs; and made RipIt's rips more compatible with apps such as HandBrake ( ), DVD2OneX, and Roxio's Toast 10 Titanium ( ). Except for the compression feature, there's no indication in the interface that anything has changed—insert a disc, click Rip, wait, and you're done.
The latest version of RipIt carries a Compress button that includes a small "beta" banner, indicating that work on this feature remains to be done. Within RipIt's Compress preference you choose the format for ripping your movie. Your choices are High Quality MP4, Apple TV, iPhone/Touch, XBox360, and PS3. When you click the Compress button, RipIt rips the discs main feature (or, in the case of a TV shows disc, the disc's episodes).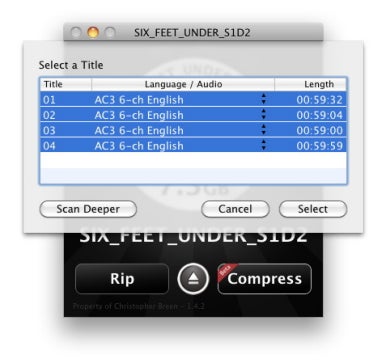 The beta label is appropriate. With RipIt 1.4, I was unable to use the compression feature with Pixar's Wall-E. However, when it failed I was prompted to send a report of the failure to The Little App Factory. The company strives to obtain discs that don't work so they can update the program to work with such discs. Perhaps the proof of the usefulness of the reporting feature is that using RipIt 1.4.3, I was able to successfully rip Wall-E's main feature with the compression option.
Although it's nice that RipIt now lets you rip main features and episodes and compress them in one step, it's a very slow process. Using the Apple TV preset, it took the program just over 57 minutes to rip and compress Wall-E on my quad-core 2.66GHz Mac Pro. In comparison, HandBrake did the same job in about 32 minutes. I also tried the compression feature with the first disc of Six Feet Under, Season 1. HandBrake ripped and converted the three episodes in 53 minutes. RipIt took more than twice that long—1 hour and 56 minutes. The resulting video looked great, but no better than the HandBrake rip.
Take compression out of the testing and RipIt performs well. The rip of the entire Wall-E disc took 28 minutes and 3 seconds. The Six Feet Under disc was ripped in 26 minutes and 20 seconds.
RipIt's strength remain its simplicity and ability to rip just about any disc you throw at it. The compression feature, once finalized and faster, will be welcome.