At a Glance
Expert's Rating
Pros
Lots of presets
Preview window
Cons
Some presets not very good
Can't save edited presets
Results can have obvious artifacts
Applied subtitles look poor
Our Verdict
More expensive and producing poorer results than the competition, iSkysoft DVD Ripper is not a good choice.
[Editor's note: The MPAA and most media companies argue that you can't legally copy or convert commercial DVDs for any reason. We (and others) think that, if you own a DVD, you should be able to override its copy protection to make a backup copy or to convert its content for viewing on other devices. Currently, the law isn't entirely clear one way or the other. So our advice is: If you don't own it, don't do it. If you do own it, think before you rip.]
iSkysoft Studio's $39 i Skysoft DVD Ripper is one iteration of a DVD-ripping tool sold by iSkysoft as well as its affiliates, Wondershare and Aimersoft. The code within these applications is the same, only the interface differs. In its Wondershare incarnation it's called Wondershare DVD Ripper and, at $45, costs $6 more than iSkysoft DVD Ripper. Under the Aimersoft label it's known as DVD Ripper and costs the same $39 as the iSkysoft branded version. There may be others version of the same product as well. While iSkysoft DVD Ripper may have more bells and whistles than some other ripping applications, those extra features don't translate into better looking videos.
Like HandBrake ( ), iSkysoft DVD Ripper not only strips commercial DVDs of their copy protection, but additionally converts the resulting videos to other formats. iSkysoft DVD Ripper offers 74 different output formats—far more than any one person needs—but at least its Format pop-up menu organizes these formats into groups that include Common Video, Common Audio, iPod, iPhone, Apple TV, PSP/PS3, Mobile Phone, Portable Multimedia Device, Network Video, Others, HD, and All Profiles. You needn't settle on one of these preconfigured settings. If you like, you can choose one, click a Settings button, and then adjust some of the settings. For example, you can adjust a video's resolution, frame rate, and bit rate , as well as and the video's audio sample rate, channel number, and bit rate. You can't, however, save an altered setting for later.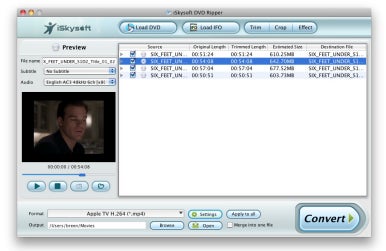 And that's unfortunate, because some of the preset aren't very good. For example, the Apple TV H.264 preset I chose produced videos of poor quality—with obvious artifacts and less-than-crisp images. Additionally, unlike HandBrake, iSkysoft DVD Ripper can't automatically identify 4:3 video and size the resulting movie correctly. A 640-by-480 TV episode I used to test the program displayed large black bars on either side.
I reported my results to the program's developers and they suggested I tweak the preset's resolution, frame rate, and bit rate settings. After working around a bug that causes the resolution setting to revert back to its original state when you change the frame rate, I ripped my test files again and saw some improvement, but the resulting videos still weren't as crisp as what I saw in HandBrake rips using identical settings.
The application gives you the option to choose the audio track you want to use (provided the disc supports multiple audio tracks) as well as apply subtitles to the converted video. Unfortunately, those subtitles are burned into the movie—unlike with subtitles created by HandBrake, you can't turn them off. iSkysoft DVD Ripper lets you see a preview of your video before you convert it. This is helpful for those times when you want to be sure you're ripping the desired portion of your disc. But having the Preview option on slows down the rip. Regrettably, it's on by default so if you want faster rips you have to switch off the option every time you rip a disc. Additionally, there are controls for trimming the beginning and end of the video; cropping it; and adjusting brightness, contrast, and saturation. You can also adjust deinterlacing and add filter effects such as gray (black and white), emboss, and sepia. The last option seems overtly gimmicky.
Even with all these options and presets, the results of the application's rips aren't very good. I ripped Wall-E and the first disc of Six Feet Under, Season 1, with HandBrake and iSkysoft DVD Ripper and the HandBrake results were better—with less pixelation and crisper images.
iSkysoft DVD Ripper was both faster and slower than HandBrake in my tests. I ripped Wall-E and the Six Feet Under disc with both applications using the Apple TV preset (the tweaked version as recommended by iSkysoft). DVD Ripper was faster than HandBrake with the Wall-E rip, taking 31 minutes and 43 seconds to HandBrake's 32 minutes and 16 seconds. It wasn't as fast as HandBrake, however, with the Six Feet Under disc. The three episodes from that disc took DVD Ripper 1 hour and 6 minutes to rip when HandBrake took just 53 minutes.
Macworld's buying advice
iSkysoft DVD Ripper is more expensive and produces poorer results than competing products such as HandBrake. Regardless of its cost or the names it bears, it's not the best choice for those interested in ripping the commercial DVDs they own.