At a Glance
Expert's Rating
Pros
Disc burning built in
Includes Rip as Disc Image option for difficult discs
Cons
Can't extract main feature or episodes
Our Verdict
Mac DVDRipper Pro is a reasonably capable and affordable tool for those who want to create archives of the DVDs they own.
[Editor's note: The MPAA and most media companies argue that you can't legally copy or convert commercial DVDs for any reason. We (and others) think that, if you own a DVD, you should be able to override its copy protection to make a backup copy or to convert its content for viewing on other devices. Currently, the law isn't entirely clear one way or the other. So our advice is: If you don't own it, don't do it. If you do own it, think before you rip.]
There are two classes of commercial-DVD ripping applications—those that decrypt discs and leave you with an archive file that you can play on your Mac, and those that not only decrypt the disc, but also convert its content to a form playable on devices such as iPods, iPhones, iPads, and Apple TVs. DVDSuki Softwares' $10 Mac DVDRipper Pro fits into the first class. It removes copy-protection from encrypted discs, allows you to create disc images, provides some control over invalid VOB units and cells, and, optionally, can burn a DVD copy of the disc once the DVD has been decrypted.
Operating the application is a cinch. Just insert a DVD, wait for it to mount, and click the Rip button. If able, Mac DVDRipper Pro will then create a DVD archive that contains all the contents of the disc. You can play this archive in Apple's DVD Player. Some commercial DVDs are protected in such a way that they report a false capacity—nearly 60GB instead of 6GB or 7GB—and contain a series of false titles and corrupt sectors. When Mac DVDRipper Pro encounters one of these discs, the program pops up a warning suggesting that you enable the Rip As Disc Image option. Do so and the application creates an .iso file, which you can mount and play with DVD Player or burn to DVD with Apple's Disk Utility. Although the application ripped my copy of The Magnificent Seven with no complaint, it could create an archive of Pixar's Wall-E only through the Rip As Disc Image option.
Next to the Burn As Disc Image option is a Burn After option. This is a nice shortcut for those who want to make backup DVD copies of their protected DVDs. After the disc has been decrypted, Mac DVDRipper Pro ejects it and displays a sheet that provides options for burning a copy. With other applications such as RipIt ( ) and MacTheRipper, you must burn the VIDEO_TS folder (the folder that contains the discs audio and video files) using another application, such as Maconnect's free LiquidCD (or read our story on backing up DVDs for more details). I successfully ripped and burned a copy of Pixar's Wall-E using this feature.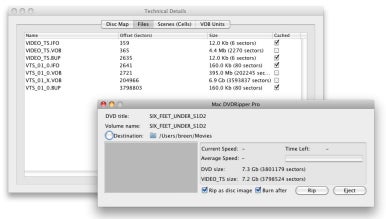 If you open the application's Preferences window, you'll find some helpful options for dealing with bad sectors—either those that result from scratches or ones that are intentionally created by the disc's producer to help thwart copying. Specifically, you'll see options for marking VOB units as invalid (the preferred option for scratches), marking a scene (cell) as invalid (better for those sectors created to enhance copy-protection), and marking as invalid scenes that are smaller than 50MB (another copy-protection workaround).
If Mac DVDRipper Pro has a failing, it is the program's inability to do much more with the disc than replicate it. You can't extract a disc's main feature, or episodes from a TV compilation DVD. However, if you later use another tool (HandBrake, for example) to convert the archives created by DVDRipper Pro, you can deal with such issues then.
I'm quite fond of The Little App Factory's RipIt, thanks to its simplicity and ability to rip any disc I throw at it. Given Mac DVDRipper Pro's complaints about Wall-E, I suspect that it's not as swift when presented with complicated copy-protection schemes. Mac DVDRipper Pro is a reasonably capable and affordable tool for those who want to create archives of the DVDs they own. In my experience, RipIt has more success with difficult-to-rip discs, but at twice the cost.