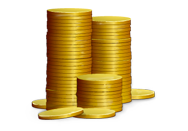 Apple has surpassed Microsoft's market capitalization on Standard & Poor's S&P 500 index, a move that makes Apple the second-largest company on that index behind only energy giant Exxon Mobil—or so claims an article published today on the Marketwatch.com Website.
According to MarketWatch, Apple's market capitalization as calculated by S&P rose today to $241.5 billion, thus topping Microsoft's, which stood at $239.5 billion. The "market cap," as this key financial metric is often called, represents the total value of all outstanding shares of a company—in other words, the number of shares times their price. That makes market capitalization an indicator of how much the markets think that a particular company is worth, rather than an objective measurement of a company's assets and liabilities.
The S&P 500 index, in particular, is based on a company's "float-adjusted" market cap—that is the value of all shares that are available on the market for sale at any given point in time. While that's of particular interest to investors—who, after all, are looking to actively trade in a stock—this number doesn't include shares that are held by investors who are not interested in trading. And that makes a big difference: when all shares of both companies are taken into consideration, Microsoft's full market cap still outstrips Apple's by $275 billion to $241 billion.
Why the difference? Perhaps it's because investment circles consider Microsoft a stable company that makes sense as a long-term investment due to its more established nature; Apple, which is still growing aggressively, is looked upon as a slightly more speculative opportunity. This would explain why practically all the company's shares are floating on the market—that is, Apple's float-adjusted and full market caps are essentially the same.
Therefore, this milestone appears to be more psychological than anything. It's a bit like trying to decide who the richer of two people is based on the amount of cash they have in their wallets. Still, it's a clear sign of the fact that the financial markets are responding well to Apple's strategy for growth and innovation, which have led the company to the record revenues and profits announced in Tuesday's quarterly earnings reports.