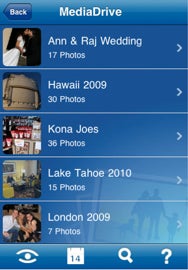 Flickr? MobileMe Gallery? Picasa? Western Digital network drive owners have no need for such services. For these customers can store their photos on a WD networked hard drive, and show them off to friends wherever they are with the WD Photos iPhone app.
WD Photos is a new app from Western Digital that is designed to showcase your photos stored on compatible WD networked hard drives. Photos are accessible anywhere you are (as long as your iPhone or iPod touch has an Internet connection, of course), and offline copies of recently accessed photos are kept for your stuck-on-the-subway or AT&T-is-down-during-my-commute-home-again browsing pleasure.
Photos can be organized and accessed by albums and folders, or searched and filtered. You can also assign photos to contacts, e-mail them to friends, save them to your device's camera roll, and play them as a slideshow.
To use WD Photos, you must store your photos in the "Shared Pictures" folder of a My Book£ World Edition network drive or ShareSpace network storage system. You must also sign up for NimoNet, Western Digital's free remote access service designed just for products like this.
WD Photos is a free app that humbly requires iPhone OS 3.0 or greater on a compatible iPhone, iPod touch, or iPad.