Editor's Note: The following article is reprinted from PCWorld.com.
The iPhone got people thinking that watching TV on a phone could be more (and better) than a mere novelty. Many of them began buying TV shows and movies from the iTunes Store to watch on the iPhone. iPhone apps that stream video began showing up in the App Store more than a year ago, but aside from a few live sports apps (like the awesome MLB.com At Bat), the quality of general-interest video streaming apps for the iPhone hasn't been great. For many developers, iPhone has been the mobile platform of choice, so streaming video apps for other platforms, including Android, are even scarcer.
But mobile video in the United States is a sleeping giant that is just now waking up.
Why now? More people own smartphones and other advanced mobile devices (such as e-book readers and tablet PCs), and they want to watch video on those devices. Wireless networks are getting faster and more reliable, and the launch of Apple's iPad certainly added to the excitement around watching videos in the kitchen or on the bus or wherever. Feeding the momentum are advertisers, who see mobile video as a great opportunity for ad placement.
As demand heats up, a number of well-moneyed companies are moving quickly to establish themselves as the go-to provider of mobile streaming video—aiming to become the " Hulu of mobile." Which ones are the main contenders?
Bitbop
News Corp. subsidiary Fox Mobile Group is cooking up a mobile video service called Bitbop that shows some promise. Announced at CTIA in March, the service will run as a $10-a-month app on iPhone, Android, and BlackBerry phones, and will be available from all major U.S. wireless networks. Users will be able to connect to the service via either 3G or Wi-Fi, and will be able to stream content or download it to their phones temporarily.
Bitbop, however, has not yet submitted its iPhone app to the App Store for approval. In fact, Bitbop plans to buck the trend and make its service available first on Android and/or BlackBerry devices, not on the iPhone. The iPhone will likely be the third phone to get a Bitbop app, a Bitbop spokesperson told me. The service will probably debut this summer on an as-yet-unnamed Android or BlackBerry phone.
Regardless of what mobile platform it runs on, Bitbop already has a couple of important advantages: First, it will have access to all of Fox's content, as well as to the content of Fox partners such as NBC Universal and Discovery. Second, Bitbop will presumably have access to Fox's deep pockets to buy additional content, develop its mobile delivery platform, and pay for advanced methods of content delivery to mobile devices.
FLO TV
Another deep-pocketed entrant in the mobile video arena is the mobile chipmaker Qualcomm, which is behind the FLO TV mobile video service. FLO TV uses its own wireless network (not a 3G network) with its own wireless spectrum to distribute video. This arrangement could be an attractive to wireless carriers: Since FLO TV is delivered over a separate network, it could alleviate some of the burden that high-bandwidth apps such as video are placing and will continue to place on 3G networks.
In order for FLO TV to work on a given handset, however, the device must contain a special FLO TV chip within its shell. So FLO TV can't simply develop apps for all the mobile platforms and call it a day. It must work directly with the handset makers and the carriers to get the special Qualcomm chip inside each phone.
There's no FLO TV chip in the iPhone, but FLO TV is working with an accessories company called Mophie to put the chip in a sleeve (called the Juice Pack TV) for the iPhone and the iPod Touch that will catch the signal for the device. The sleeves aren't yet available, and iPhone/iPod touch users must also grab an accompanying free FLO TV app from the App Store.
But FLO TV wants to deliver its video service more broadly to a greater number of smartphones—including, for instance, Verizon's recently launched HTC Imagio. Expect to see FLO TV showing up on more handsets and more carrier networks in the next two quarters.
MobiTV
MobiTV, perhaps today's the most carrier-entrenched mobile video service, recently released a full-blown app for the iPhone and the iPod touch.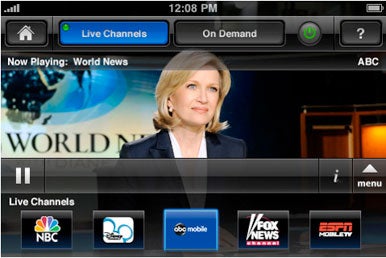 MobiTV's free app streams live content such as ABC News, as well as on-demand stuff from the likes of Fox News, NBC News, and NBC Sports. But to get a decent selection of video, you'll have to buy one of MobiTV's one-, three-, or six-month packages (priced at $10, $25, and $45, respectively), which feature eight channels of live TV and more than 30 channels of on-demand content. As Android continues to gain steam, you can expect to see a similar MobiTV app in the Android Market.
MobiTV has launched other apps for iPhone, most of them focused on single-focus sporting events like Notre Dame football, college hoops, and Ultimate Fighting Championship bouts.
MobiTV's main business consists of aggregating and serving up video content on mobile phones through direct partnerships with wireless carriers. The company (launched in 1999) began performing this service in 2003, and it now has about 9 million subscribers.
You can find MobiTV on phones from AT&T, Verizon Wireless, Sprint, T-Mobile, and several smaller, regional networks such as Alltel. In some cases, MobiTV is branded something else, like "Sprint TV"; in others, the service shows up on the phone under the MobiTV brand. Typically, the user downloads a piece of MobiTV software to a phone, at a cost of about $10 per month.
MobiTV announced at the Consumer Electronics Show this year that it plans to add free local broadcast TV content to its service at some point, as a complement to its national subscription-based and premium content. No word on when "mixTV", as MobiTV calls it, will become available to consumers.
Netflix
For many consumers, Netflix and Hulu are the go-to places to watch video on a computer. When will we be able to get those services on our mobile devices?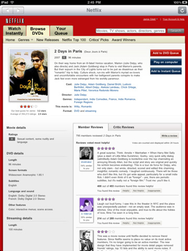 Netflix was quick to push out a streaming video app for the iPad, and the app has been very popular; but the company is reticent about releasing an app that puts its Watch Instantly service on the iPhone—or on any other phone.
So far this year, the company has sent mixed messages about its interest in mobile video. Netflix CEO Reed Hastings told investors on January 29, "We haven't yet done or submitted an iPhone application," he said. "It is not a huge priority for us because we are so focused on the larger screen."
But on April 2, the day Netflix announced its iPad app, the company's communications VP Steve Swasey wrote on the company blog: "For those of you asking whether Netflix will be on the iPhone and iPod touch: We wouldn't invite you to dinner without planning to serve dessert. In other words, we're working on it so stay tuned."
A Netflix app for the iPhone is likely to appear in the next few months. Let's hope that we see a similar version for Android devices and other advanced mobile devices (such as e-book readers) soon afterward.
Hulu
Hulu fans have been clamoring for a mobile app for about a year now. But no app has appeared yet, and Hulu's mobile intentions have been tough to read.
Just prior to the launch of the iPad, when speculation about a Hulu iPad app was running high, Hulu CEO Jason Kilar told GigaOm's Om Malik, "Mobile will always be like a snack channel but never will become the major [revenue] share of our business." Okay then.
Still, people continue to ask Hulu executives about mobile constantly, so the company's management team is certainly aware of the large and growing desire among consumers for mobile TV; and Hulu execs always speak in painfully vague terms about how excited they are about mobile.
It seems highly probable that Hulu will show up on mobile devices at some point and in some fashion. Because Hulu runs on Flash, the company might embrace Android phones, which run Flash.
Hulu might also develop a Flash workaround for the iPhone and the iPad. Doing so, however, might mean transcoding Hulu content to run in QuickTime, which would take time and cost money. In fact, that process might be going on right now and might be causing the delay.
The New York Times reported a few weeks ago that Hulu is indeed working on an iPad app. Other media sources have reported that a Hulu iPhone app is in development. If any of these rumored activities turn out to be true, versions of the app for other mobile platforms may soon appear.
Boxee
Boxee has emerged as a popular digital video manager for home use, but the name is mentioned less often in a mobile context. Until now. People love Boxee because its free, open-source software brings all kinds of Internet video to the big TV in the living room, and simplifies the task of searching for new stuff to watch. Similar design expertise would be welcome on small mobile screens, on which organizing video titles is a real challenge.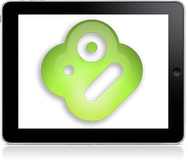 A recent job posting on the Boxee Website indicates that the New York company is looking for an iPad and iPhone app developer to become the first member of Boxee's new mobile applications team.
The job posting also notes "Android development experience a plus"—suggesting that Boxee's mobile aspirations don't begin and end with the iPhone. According to the Los Angeles Times, Boxee plans to go directly to the networks for content, instead of just aggregating it.
Boxee previously developed an app that lets users control the Boxee system from an iPhone. But that's simple stuff compared to making the content on a Boxee box searchable and viewable on the small screen. Based on what we've seen of Boxee's design chops, though, the company is probably up to the task.
U-Verse Mobile
Like Boxee, AT&T started out with a DVR mobile remote-control app, and it is now working on a full-blown video app to stream U-Verse video via 3G or Wi-Fi to iPhones and other devices. Microsoft Mediaroom 2.0, the IPTV software behind U-Verse, is already capable of performing this trick, and it may be able to stream U-Verse TV even more elegantly to a Windows Phone 7 phone.
At the CTIA show, AT&T gave a demo of the U-Verse mobile app, using an iPhone. The presenter accessed a sharp-looking U-Verse programming guide, and then selected a video and played it on the phone. Everything looked very simple and straightforward, with DVR programming functions flowing neatly into the content search and streaming controls.
The video itself looked nice enough during the demo, but how consistently the system can deliver video at high quality to millions of mobile devices remains to be seen. AT&T says that the new app will debut in the Apple App Store later this year, at a probable price of around $10 per month.
Pearl Mobile DTV Company
The conversation about including live and local content in streaming services is just getting off the ground, and broadcasters are taking action. A group of local television station conglomerates have banded together in a joint venture called Pearl Mobile DTV Company, which will offer a " national mobile content service."
The station groups include NBC Universal (NBC affiliates), News Corp. (Fox affiliates), Belo Corporation, Cox Media Group, E. W. Scripps, Gannett Broadcasting, Hearst Television, Media General, the Meredith Corporation, Post-Newsweek Stations, and Raycom Media.
Observers immediately compared the new venture to Hulu, and there are some real parallels. Like Hulu's backers-NBC, News Corp., and CBS-the backers of Pearl Mobile DTV Company command a lot of media holdings, a lot of capital, and a lot of influence; and as such they must be taken seriously.
Like Qualcomm's FLO TV, the group wants to use the broadcast spectrum that it collectively owns to deliver video to mobile devices without depending on mobile providers' 3G networks. And as with FLO TV, phones will require a special chip inside to receive the signal.
In terms of content, the new service may have access to more content from local stations than will competing mobile video services that rely primarily on large, national content owners and distributers for the their video assets.