Recently the folks at MyFonts—one of several Websites that offer fonts from hundreds of designers and foundries around the world—announced their Top 10 Fonts of 2009, based on sales. (The site also lists the 50 top-selling fonts each month.) To me, this list of bestsellers is far more interesting than similar lists I've seen at other Websites.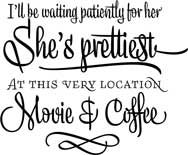 Typically, a list of bestselling fonts does not represent the most interesting designs—in fact, bestselling fonts at most other Websites are often simply new OpenType versions of older text fonts that were previously released in PostScript or TrueType format.
So, what constitutes an interesting font? Graphic designers look for several things: appropriateness for the project at hand; an elegant and refined design; typographic extras such as ornaments and alternate characters (glyphs); and in the case of fonts to be used in text-heavy projects, an extended family of weights and styles. It also helps if the font seems fresh and not overused by everyone, everywhere.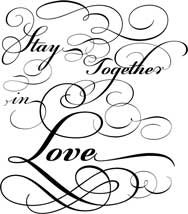 The fonts included in MyFonts' annual Top 10 exhibit an abundance of these fine qualities. My favorites are Aphrodite Slim Pro, Champion Pro, and Liza Pro because of their huge sets of alternate glyphs and their advanced OpenType features that automate the use of their thousands of glyphs.
Note their beautiful swirls and swashes, many of which are attached to alternate versions (glyphs) of standard characters. If you look at the same letter in different locations, its shape changes according to the letters on either side of it. For example, note the letters S, T, and E in Liza Pro and the three Os in Aphrodite Pro.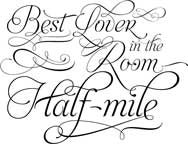 For a quick lesson on how to access these kinds of special characters and how to set your application to automatically apply them according to where the letters occur, follow the simple instructions in my story, Adios Script: a smart font.
Magazine designers are constantly on the lookout for unique fonts that complement article topics. Two great examples of fonts that could appear as graphic headlines in a magazine are Narziss and Memoriam.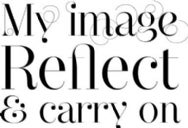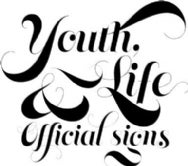 Both work best at large sizes because of the dramatic difference in weight between the thin and thick strokes of the letters, which tend to break up at smaller sizes. This also makes them particularly suitable for use in posters.
If you're looking for a font to use for book text, Calluna is a useful choice. It has several weights along with elegant italic styles.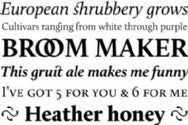 This variety is helpful when you need to distinguish between headlines, subheads, text, and captions. And in addition, it includes ornaments for beginning or ending chapters, and a useful Small Caps style for callouts, quotes, and other places where you want some variety without the font screaming, "Hey, look at me!" Some publishing applications can create a fake Small Caps style from a regular font, but these rarely look right—the difference in thickness between the large caps and the small caps looks unprofessional.
If your book leans toward the more fantastic, look at Ivory.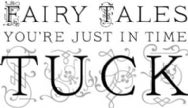 The illustrated capital letters are perfect for chapter titles, or even for the book jacket. In addition, the illustrated backgrounds for the letters are available separately, so you can stack them and even apply different colors to the foreground and background of the letters.
A catalog project requires an even larger array of weights and styles, which the bestselling Alright Sans provides. Its design is modern, yet approachable—and not so unfamiliar as to be distracting. The wide-open design of its letterforms lends itself to use in a wide range of sizes, as well as in Web pages. And note the old style numbers that blend in nicely with the text—a feature also available in Calluna.
Both these fonts include lining numbers, which feature an equal width for each number, so they line up when used in a vertical column. We've become accustomed to seeing lining numbers because they have been included in all fonts since the beginning of the desktop publishing era. Old style numbers have previously been available only in special font sets, but are now included in some of the advanced OpenType fonts.
If you're designing a time table, chart of events, or liner notes for a CD, try Geogrotesque.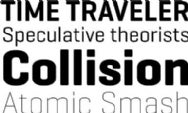 Note the uniform strokes in each letter: there is little difference in width between vertical, horizontal, and curved segments. This gives it a modern—or even post-modern—appearance that also lends itself to low-resolution display, such as for Web pages.
The final entry in MyFonts' 2009 Top 10 is We Love Nature, a picture font that serves to remind us that fonts may contain any kind of shape, not just letters.
These flowers are simply outlines placed into the slots normally reserved for letters in a font. Type the letter A, and you get one of these flowers; type B and you'll get a different one. This font is one example of hundreds of fonts that contain outlines of different objects—everything from fish to cats, airplanes to people, weapons to Michelangelo's drawings.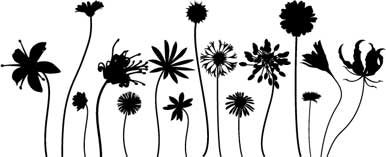 By the way, I really like the unique interface features at the MyFonts Website. While examining the We Love Nature font, the Website helpfully provided a seemingly endless stream of "More fonts like this." If you roll your mouse over any one of them, it displays a larger preview of other characters in the font—a truly helpful feature when you want a quick look at a font but don't want to go to a new page.
If one of these Top 10 fonts appeals to you but isn't exactly the one you'd use in your project, try having a look at it on the Website, and then explore the similar fonts they recommend—the variety can be overwhelming, but always inspiring.
[Jay J. Nelson is the editor and publisher of Design Tools Monthly, an executive summary of graphic design news.]