As you may know, for the past few years we've been publishing a series of books, more or less bi-monthly. The Macworld Superguides are available as downloadable PDFs, on paper, and some of them even appear as iPhone apps.
We're excited about bringing these books to the iPad via Apple's iBookstore. But we're not in there yet.
So rather than just waiting around, what we've decided to do is release a free, short book in ePub format. It's a way for us to test the iPad as a book reader and let iPad users try reading something of ours in iBooks.
What we've created is the Macworld iPad Starter Guide, a basic orientation guide for the iPad, with information about its basic features, included apps, iPod functionality, iWork and other add-on apps, and accessories. It's a light overview of some of the basic aspects of the iPad. And it's available for the low, low price of free.
Here's how to get it on your iPad.
First, download the file! It's in the iBooks-friendly epub format. Double-click on it if your computer doesn't automatically unzip the file.
Next, open iTunes on the computer you sync your iPad to. Drag the epub file into the library.
Then connect your iPad and click on it in iTunes's source list. You'll want to click on the Books tab, and then make sure that books are being synced. You can choose to sync all books, or just select what books you want to sync. Either way, this book should now appear in that list.

Then press the Sync button and let iTunes do its thing. When all is said and done, iBooks should now display a new book — Macworld's iPad Starter Guide — on its virtual bookshelves.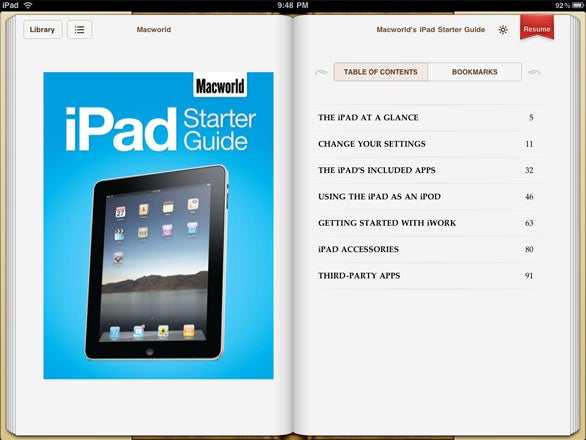 This is our first venture into publishing on the iPad, but there's more to come. We'll let you know when new books are available on the iPad. And of course, you can buy our existing books in PDF form and then transfer them to the iPad to read with a PDF reading app such as GoodReader.
Got any questions or comments? Leave them below or send an e-mail to ebooks at macworld dot com.