Twenty-five years ago this spring, Apple released the LaserWriter, its first laser printer. Few today remember that Apple's hefty printing machine had as much of an impact on the way the world uses computers as the Macintosh itself. In conjunction with Apple's famous PC, the LaserWriter pushed the personal computer into the worlds of graphic design and publishing.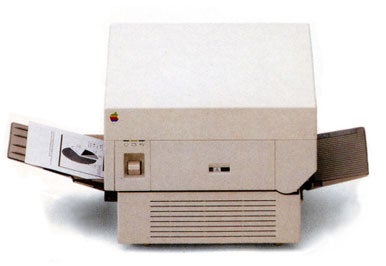 The $6,995 LaserWriter was part of a 1985 Apple marketing initiative christened the "Macintosh Office" that involved new network technology called AppleTalk, the printer, a file server, and a high-end UNIX workstation. Critics soon called the Macintosh Office campaign a bust because Apple kept delaying the fileserver and workstation. (Ultimately, neither made it to market.)
Apple pulled the plug on the Office campaign in late 1985, and critics soon forgot the episode. However, two office components—AppleTalk and LaserWriter—lived on and became successful products in their own right. In light of this 25th anniversary, here are four reasons why the LaserWriter mattered.
It assured Apple's graphic design dominance
For the graphic designer in 1985, the Macintosh already represented a quantum leap in the way one could dynamically manipulate graphics and text. But without a means to turn those designs into print, the Macintosh alone could be dismissed as a fancy toy with few real world design applications. The Apple ImageWriter, a dot-matrix printer released in 1984, did an impressive job putting the Mac's on-screen graphics onto paper. However, the ImageWriter's imperfect output, while exceptional for the time, could never pass for professional typesetting.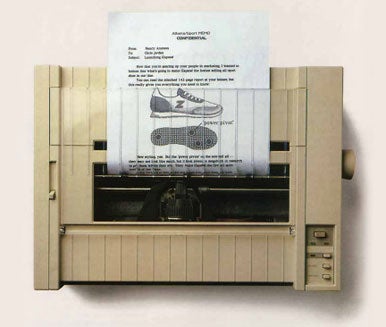 Enter the LaserWriter, which allowed a user to print typography at an enormous range of point sizes, from tiny to huge, in four professional fonts. No matter what the font size, the text came out razor sharp on paper. In addition, the LaserWriter could output perfect curves, lines, and halftoned artwork anywhere on a printed page, at any size.
For the first time, a designer could mock up a complete page of text and graphics on a computer and then produce a quick professional hard copy without significant expense. That's no small feat, and Apple made it possible.
It launched PostScript—and Adobe
The Apple LaserWriter was the world's first printer to use PostScript, a page description language created by Adobe Systems. Together, Apple and Adobe showed the world what people could do with the combination of a PostScript-powered laser printer and an easy-to-use computer like the Mac.
The genius of PostScript, in Apple's case, was in the way it could compress information. Apple's networking standard, AppleTalk, could push data at a relatively pokey (for a LAN) 230,400 bits per second. But that was plenty fast enough to quickly transmit PostScript code to the LaserWriter. Due to speed and memory concerns, HP limited its first LaserJet to no more than six square inches of graphics per page—in other words, a 2-inch by 3-inch rectangle. In contrast, the LaserWriter could output a full page of graphics at the user's discretion.
It was the first network printer
If your office bought a $6,995 printer (that's $14,090 in 2010 dollars), wouldn't you want to share it among employees? Apple thought so, so they designed the primary interface for the LaserWriter around their new AppleTalk networking standard. As a result, 30 to 40 Macs could share the same LaserWriter over Apple's low-cost computer network.
Unlike networked printers in the past, the LaserWriter didn't have to be tethered to a computer to be available on a network. The HP LaserJet IIISi duplicated this network functionality for the first time on the IBM PC side in 1991—a full six years after the LaserWriter.
It empowered the little guy
In 1987, my father bought a Macintosh SE and a LaserWriter IISC. With the help of the page layout program Aldus Pagemaker, he designed company letterhead, business cards, and product spec sheets for his small company (five employees total). With the Mac/LaserWriter combo, a small business like his could afford to design and produce professional quality literature on par with that of a major corporation. Had my father started his business prior to 1985, that would not have been possible.
For those of us who grew up with desktop publishing all around us, it's hard to fathom the pains and expenses people went to just to produce a single page of laid-out, pasted-up typography in the world before the LaserWriter. It took dozens of hours of work to typeset a single page of text in the 1970s and early 80s. The machines involved— typically photo typesetters—sold for tens of thousands, if not hundreds of thousands of dollars. Rental of these machines also proved expensive, and corrections were time consuming.
Fast forward to 1985. With the LaserWriter and a Mac, one person could sit down, input text into a computer-designed page layout, and have a hard copy in a few minutes. From there the user could either print out a handful of copies, photocopy the LaserWriter output for distribution, or send the design files to a printing house for mass duplication after checking an accurate proof printed on-site.
It wasn't just business that benefited from these advances. Apple's printer helped the really little guys too. In the pre-Internet age, independent publishers of all sorts launched a thousand "zines." And never before had Aunty Nora's Christmas Cookie Report looked so good. The launch of the LaserWriter effectively marked the beginning of the desktop publishing era—that era in which anyone could design and print professional looking publications with their PC.