Last week, anyone who pre-ordered Apple's iPad Camera Connection Kit began receiving the iPad accessory. The kit—which features one dock-connector adapter with an SD-card slot and a second one with a USB port—is designed to let you transfer your digital camera's photos to your iPad. But it turns out this accessory has a few other tricks up its metaphorical sleeve that just may make it more appealing to many iPad owners. None of this functionality is officially supported—at least not yet—so caveat emptor if you're thinking of buying the Kit just to get one or more of these features.
Audio: As Macworld contributor Glenn Fleishman first reported, standard USB-audio accessories—namely, USB headphones, headsets, and speakers—can be used with the iPad via the Camera Connection Kit's USB adapter. When you plug one of these audio accessories into the adapter's USB port, all audio is routed through the USB-audio accessory. If you're using a USB headset, the headset's microphone also works for audio-recording apps, as well as audio-chat apps such as Skype.
While I didn't have enough USB headphones, headsets, and speakers on hand to test this feature exhaustively, my results with a handful of devices confirm Glenn's experiences. In fact, the iPad treats a connected USB-audio accessory much like a set of headphones connected to the iPad's headphone jack: If you unplug the USB cable or adapter while music is playing via the iPod app, playback pauses. On the other hand, I did occasionally experience some odd echo-like distortion when using a USB headset.
Keyboards: The iPad is the first iPhone OS device to support external keyboards, but that support is officially limited to Bluetooth keyboards and Apple's iPad Keyboard Dock. After seeing Glenn's original article, I decided to plug in a bunch of other USB devices. While hard drives didn't work, some keyboards did.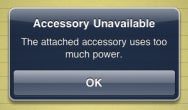 Why only some? USB keyboards that provide higher-power USB ports for charging and syncing iPods and iPhones—including Apple's own aluminum models—require more power than the iPad's dock-connector port will provide. If you connect one of these keyboards to the Camera Connection Kit's USB adapter, you get an error message (see the image to the right) that the accessory is unavailable because it uses too much power.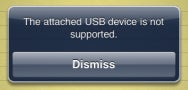 If you connect a more miserly USB keyboard, however, the message you see states only that the attached USB device is not supported. Once you dismiss that error message, the keyboard functions much as any third-party Bluetooth keyboard: all standard keys work as expected, as do the volume and mute keys; the eject button toggles the iPad's onscreen keyboard. (See my article on the Keyboard Dock and Bluetooth keyboards for more details on how third-party keyboards function with the iPad.) We tested several third-party keyboards, including models from Matias and MacAlly, and they worked well. Logitech's Windows-focused Illuminated Keyboard, on the other hand, didn't work, likely because the keyboard draws additional power to provide backlighting for its keys.
If you're using Apple's standard iPad Dock, you can even plug the Camera Connection Kit's USB adapter into the Dock's own dock-connector port, letting you use a compatible USB keyboard with the iPad positioned in the Dock. If you don't have the iPad Dock, and you want to use a USB keyboard with the iPad in portrait orientation—say, in a third-party stand or dock—you'll need to turn the iPad upside-down (so the dock-connector port is at the top).
Video storage: One of the official features of the Camera Connection Kit is that it lets you import videos—presumably ones shot with your digital camera. If those videos are in H.264 format, you can then play them on the iPad. As Macworld contributor Jeff Carlson discovered, you can take advantage of this functionality and the SD-card adapter to use SD cards for storing video while traveling, thus freeing up room on your iPad for other content.
To perform such magic, you just convert your videos to iPad-compatible H.264 files (using, say, HandBrake), and then copy those videos to the DCIM folder on one or more SD cards. Plug the SD-card adapter into your iPad's dock-connector port, insert an SD card, and the Photos app will automatically launch; your videos will appear as candidates for importing. (You must import a video to watch it—you can't watch it from the SD card—which means you'll want to keep enough free space on your iPad to accommodate your largest video. Once you're done watching an imported video, you can delete it from the iPad to free up room for the next one.)

Don't look for these imported videos in the Videos app—since the iPad thinks you imported the videos from a digital camera, they appear in the Photos app. This means you don't get all the viewing features of the Videos app, such as chapter navigation. The Photos app also doesn't remember your playback position if you leave the app and come back later. Still, this is a great (unsupported) feature if your iPad is running out of storage space or if you want to bring along more movies than your iPad can hold.