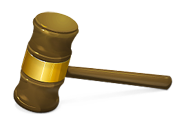 Update: Gizmodo has reported that editor Jason Chen's computers have been seized by the Rapid Enforcement Allied Computer Team, an inter-agency task force based in Silicon Valley that investigates technology-related crime. Gawker Media's lawyers are contesting the search warrant on the grounds that the California penal code prohibits the issue of warrants for a journalist's belongings in matters related to their work.
The Internet went nuclear last week over Gizmodo's decision to pay $5000 for a next-generation iPhone prototype found in a bar. While many believe the tech blog's decision to pay for secretive technology that clearly didn't belong to the seller is unethical, the San Mateo County District Attorney's office may also weigh in with its own, more significant decision: whether or not to file criminal charges against the seller, the buyer, or both.
The district attorney could act by early next week, according to reports in The New York Times on Monday and last week at Cnet, and we're not talking about slap-on-the-wrist misdemeanor charges, either. Under California law, the theft of an item worth over $950 can be ruled a felony and though an ordinary iPhone obviously doesn't cost that much, the fact that Gizmodo paid $5000 for the device could be used to establish its worth and make felony charges an option. Gizmodo parent company Gawker Media told BusinessWeek on Friday that it had not heard from any law enforcement personnel.
Gizmodo's editor, Brian Lam, claims that Gizmodo has returned the device and that the blog "didn't know this was stolen when we bought it." But California law states that a person who uses someone else's lost property without permission may be guilty of theft. Charges are more likely to be filed against the seller of the iPhone, but it's all too possible that Gawker Media could also find itself in hot water with the law.