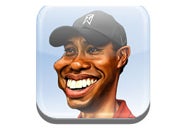 After a ray of sunshine, it's back to bleak skies in the world of editorial cartoons. Just days after Mark Fiore's application NewsToons was finally approved—after a media frenzy over the Pulitzer Prize-winning cartoonist's November rejection—the App Store's reviewers are at it yet again. Daryl Cagle, an editorial cartoonist who runs the Political Cartoonists Index on MSNBC, revealed in a blog post on Saturday that his latest application, a collection of Tiger Woods caricatures, had been recently rejected by Apple.
Cagle's company, Cagle Cartoons, ran into similar problems last year when trying to get its very first editorial cartoon application into the App Store. It took more than three months—and bad press over the initial rejection of a caricature app called Bobble Rep—before reviewers finally approved the program. Since then, Cagle Cartoons, which compiles and packages the work of prominent editorial cartoonists, has been able to release 24 additional apps for the iPhone. But apparently, App Store reviewers have taken offense to what would have been application number 26.
In a blog post entitled "You Can Ridicule Obama, but Don't Bash Tiger Woods," Cagle wrote:
As the audience for news and opinion has grown on the iPhone, we've put more effort into developing editorial cartoon apps that show all the latest cartoons that the cartoonists draw on different topics… Apple approved our "msnbc.com Obama Cartoons" app that shows the latest newspaper editorial cartoons drawn about President Obama, but Apple rejected our app on the topic of Tiger Woods. It seems that Tiger crosses an editorial line at Apple.
After fellow cartoonist Mark Fiore's app was approved last week, Cagle wrote to Apple, asking them to reconsider the Tiger Woods app, but received no response.
"I suppose Tiger Woods could be considered an unimportant topic for debate," wrote Cagle, "but newspaper editors certainly devoted a lot of space to Tiger; we heard about Tiger endlessly on television; columnists wrote about Tiger; editorial cartoonists drew hundreds of cartoons about Tiger – [but] Apple decided that Tiger Woods was not an appropriate topic of discussion for editorial cartoonists."
The big, illustrated picture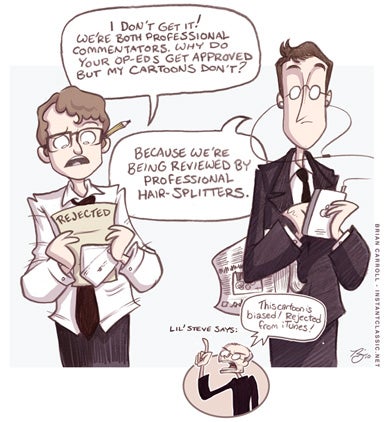 Cagle is only the latest to blog about the murky waters in which the App Store review policies reside. Wired has written in the past about Apple's ability to potentially control the news, and on Monday, writer—and former Macworld editor—Brian Chen revisited the topic, posting an article that called for clearer App Store guidelines and overall transparency. Included was a link to a letter from the Association of American Editorial Cartoonists, written on April 22 and addressed to Steve Jobs himself.
While the Association of American Editorial Cartoonists realizes that Apple is a private sector company, Apple is also becoming one of the primary ways people publish news and information. With that innovation comes new responsibility… Our nation would be a very different place if early technological innovators like Benjamin Franklin and those who followed him, forbade their presses from being used to ridicule public figures.
The section of the iPhone Developer License Agreement referenced, 3.3.17, details "content or materials of any kind (text, graphics, images, photographs, sounds, etc) that in Apple's reasonable judgement may be found objectionable." As Cagle points out, plenty of opinion pieces from reputable and non-reputable sources have been written about Tiger Woods—not to mention other public figures—over the past year. As such, it's not unlikely that some of them have been read through an iPhone or iPad application.
So, if the content is the same, why does Apple target cartoons and not op-eds? According to the developer's agreement, it has every right to go after a magazine article that could be considered "defamatory"—just as it does for a cartoon. In fact, if Apple does in fact believe it has the duty to protect the images of public figures, I'm surprised there are any newspapers with editorial content allowed in the App Store at all. Then again, if Apple announced tomorrow that The New York Times would no longer be allowed in the App Store because of "editorial content that ridicules public figures," the world would be up in arms, because the world knows The New York Times.
I do believe that the App Store's policies will eventually course-correct. There are enough people fighting against editorial censorship—including, if reports of e-mails are to be believed, Steve Jobs himself—to eventually change the tides and clear the waters. The only question is how long it will take—and how many more rejection stories we'll have to pop into our MadLibs template—before this is resolved.