Editor's Note: The following article is reprinted from the Biz Feed blog at PCWorld.com.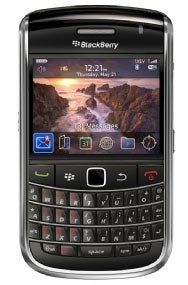 At RIM's annual Wireless Enterprise Symposium, the company revealed two new BlackBerry smartphones, the BlackBerry Pearl 3G and the BlackBerry Bold 9650. The Bold 9650 is headed to Sprint on May 23 while the Pearl 3G will be available on multiple carriers in May. RIM also announced BlackBerry Mobile Voice System 5, a voice-over-Wi-Fi service for business users.
BlackBerry Bold 9650
Like the other two members of the Bold family (9000 and 9700), the BlackBerry Bold 9650 looks sleek and solidly designed. From early product pictures, it is hard to tell whether it still has that leatherette backing—a design detail I wasn't exactly fond of on the previous two Bolds. It has a 2.4-inch display, a 3.5-mm headphone jack and supports up to 32 GB of expandable (microSDHC) memory. The keyboard looks similar to the Tour 9630's, which is one of the best BlackBerry keyboard's I've ever used.
The Bold 9650 also sports an optical trackpad rather than a trackball, like the Bold 9700. Personally, I prefer the trackpad to the trackball: BlackBerry trackballs get dirty and start to stick, and sometimes even fall out with a lot of use. The responsive touchpad gives the phone the feel of a touchscreen device, particularly when you're swiping through pictures.
The Sprint world phone supports HSPA and UTMS networks as well as Wi-Fi connectivity and GPS. The Bold runs BlackBerry OS 5.0 and comes with the excellent BlackBerry Messenger as well as support for up to 10 different e-mail accounts. The Bold also has a 3.2-megapixel camera with a flash, autofocus and image stabilization
BlackBerry Pearl 3G
Slightly smaller than the Pearl 8100, the Pearl 3G measures 4.25 by 1.96 by 0.52 inches and weighs a light 3.3 ounces. More powerful than those 2G Pearls of the past, the Pearl 3G supports 3G, Wi-Fi and GPS technology and runs BlackBerry OS 5.0. Like the Bold, it has a 3.2-megapixel camera with a flash, BlackBerry Messenger and supports up to 32GB of expandable memory.
Two models of the Pearl 3G will be available: One with a 20-key condensed QWERTY keyboard (model 9100) and one with a traditional T9 keyboard (model 9105). Both will feature RIM's excellent predictive text software, SureType. The Pearl 3G also has that optical trackpad rather than the light-up BlackBerry trackball found on previous Pearl models.
BlackBerry Mobile Voice System 5
Last but not least, RIM introduced its voice-over-Wi-Fi service for business users. BlackBerry MVS 5 works with Cisco Unified Communications Manager to allow users to use a single work number between their landline desk phone and BlackBerry smartphone over a Wi-Fi connection. Some key features of BlackBerry MVS 5 include incoming call filtering, network preference settings (the option to switch between Wi-Fi or cellular for making calls), and Wi-Fi network access controls. BlackBerry MVS 5 will be available later this year from RIM's carrier partners. Pricing will vary depending on the retailer.