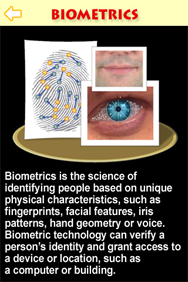 If you've ever wanted to know the difference between a gigabyte and a terabyte, or just what "URL" stands for, Jones APR's Tech Terms aims to help you out.
Released on Tuesday, Tech Terms is an iPhone dictionary app whose goal is to help the average computer user make sense of some of the strange words and phrases associated with technology. The app divides its terms into four categories: hardware, software, Internet, and technology, though you can also go through a complete alphabetical list of the app's more than 100 terms.
It also offers a search feature, "Shake for a Random Term," and a link to the developer's other applications. All definitions and images are built into the app, so information can be accessed even without an Internet connection—say, if you have a burning desire to learn the true meaning of "System on a Chip architecture" while sunning on a beach.
Tech Terms is free for a limited time and available through the App Store for any iPhone and iPod Touch running 3.0 or later.