Warlords: Call to Arms, Greyhound Games' $1 follow-up to their popular flash game, is a solid medieval strategy game in which you lead battalions of elves, trolls, orcs, and other fantastical creatures in a quest for world domination. This battle-centric fantasy game has elements of both Risk and World of Warcraft, requiring you to be clever in your role-playing and offensive strategizing. You won't get far trying to mindlessly hack your way to victory—a feature that makes this game a keeper. Though I usually prefer gratuitous shoot-'em-up games, I found Call to Arms hopelessly addictive. More than once I caught myself barking orders at my reducing ranks, like some kind of over-ambitious general.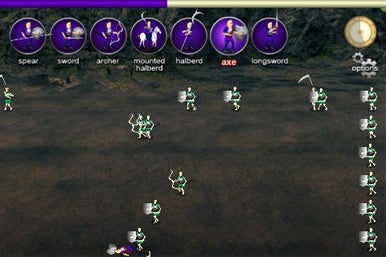 There's definitely a good chance you'll squander hours in controlling one of the game's eight races (night elves, the undead, mountain trolls, and so on), capturing countries you've never even heard of, all in tune to the clashing of swords. As you lead your army in search of conquest, you receive money for each kill and for capturing enemy territory. The objective is humble: battle your way across lanes of a two-dimensional field to the other side. Achieving your objective, however, is not so simple. With each territory you select, the difficulty increases and your foe becomes more resilient and better armed, making world domination a more nuanced matter than the time a subway ride affords.
As your campaign gets underway, simply follow the arrows on your campaign's map. Select an enemy and fight. Once on the battlefield, your progress toward victory is shown at the top of the screen, as are your available units. Select archers, for example, by tapping their icon, then touch the lane you want them to march down and let them go. After every twenty kills you make, you will have the option to send an entire unit in a "charge." In between battles, you can attend ye olde armory to purchase new units or upgrades to your army's speed and armor among others.
Overall, Call to Arms' graphics are average; the visual layout is reminiscent of some older versions of Zelda. There isn't a great depth of detail to the battlefields or warriors, but there's enough variety in the game's terrain, equipment, and strategizing, that it isn't a big concern.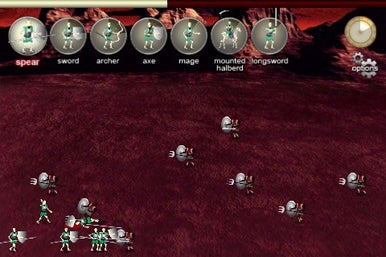 While the experience is deep, there is room for improvement. Further customization options, for both layout and sound, would make Call to Arms' gameplay experience stand out. For example, I found my fingers naturally obscuring the battlefield when I chose new units, so it would be nice to be able to move those icons around the screen. Adding to the variety of sound effects, such as the player the option to choose his or her own battle music (Ride of the Valkyries, perhaps?), or in-game announcements, would be welcomed. In the end, my biggest qualm with the game was that I felt purchasing upgrades didn't have much of a noticeable effect on my army, whereas enemy armies seemed to grow stronger more consistently.
That being said, on the whole, Call to Arms' gameplay is straightforward, intuitive, and addicting. The ability to challenge your friends in two-player mode, as well as a leader board provided by OpenFeint, are features that give this game endurability.
The layout of the battlefields and the visuals of your marching warriors lend an old-school, storybook feel to the game, and I think you'll enjoy planning your attacks and watching them come alive, albeit modestly—and in miniature. At $1, Call to Arms is a great purchase and is recommended for strategy buffs and amateurs alike. Conquer away!
[Rip Empson is a frequent contributor to Macworld.]